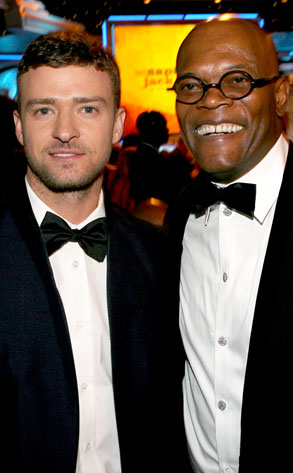 Jesse Grant/Getty Images
Justin Timberlake admits he has some special kind of feelings for his Black Snake Moan costar Samuel L. Jackson.
"I am here because onscreen and off, I feel nothing but love for the great Samuel L. Jackson," Timberlake said at last night's American Cinematheque gala honoring Jackson in Beverly Hills. "At least for tonight that mysterious 'L' stands for 'Love,' man love—and there's nothing wrong with it."
While high on praise, the Cinematheque's annual awards ceremony is more of a roast than anything else.
Timberlake got in some of the best cracks. He said past honorees like Julia Roberts, Al Pacino and George Clooney have nothing on the Pulp Fiction star...
"Did any of those other stars start their path to cinematic greatness like Sam did?" Timberlake asked. "Did Julia star in the unforgettable role of 'Black Guy' in Sea of Love? Did Al Pacino have the chops to play 'Hold-Up Man' in Coming to America? And did George Clooney have the range to play 'Taxi Dispatcher' in Betsy's Wedding or 'Blind Dream Man' in Exorcist III?"
Most, if not all, of the night's presenters riffed on Jackson's legendary foulmouthed movie roles. "We are here to honor a man tonight who turned the term motherf--ker into a term of endearment," George Lopez said. "That's a not a negative. When Sam calls you a motherf--ker, it is a positive."
Sharon Stone gave one of her signature babbling testimonies. She went on and on about how much she and her girlfriends began lusting after Jackson after watching one of his movies. When she finally introduced herself to him at a premiere, Stone recalled turning into mush and "[Jackson] looked at me like I was such an asshole."
Other presenters included Denzel Washington, Kerry Washington, Andy Garcia, Vin Diesel, George Lucas and Jackson's Star Wars costars R2D2 and C3PO. You'll be able to catch the tribute yourself when it airs on AMC on Dec. 9.