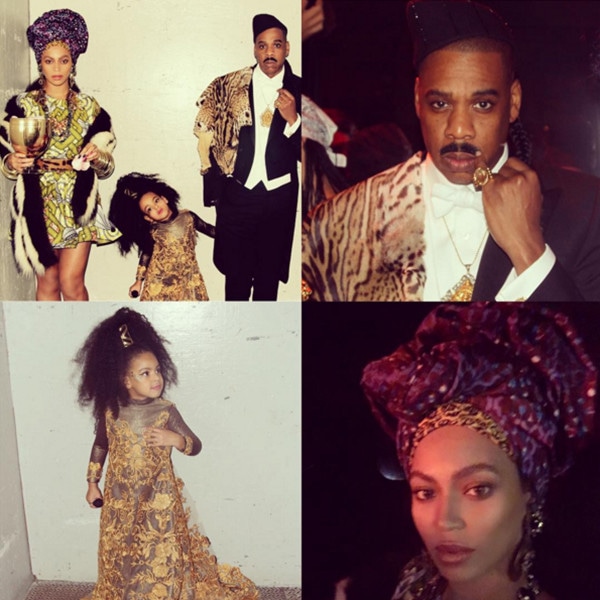 Instagram
Where in New York can one find a woman with grace, elegance, taste and culture? A woman suitable for a king?
Oh, OK, you already found her: Beyoncé.
Jay Z, his wife and their 3-year-old daughter, Blue Ivy Carter, rocked Coming to America costumes on Halloween.
The 45-year-old rap star and producer dressed up as Prince Akeem of Zamunda, Eddie Murphy's character in the cult 1988 comedy film, complete with a fake mustache, fake long braid (think '90s rat's tail) and a fake big cat (specifically, ocelot) skin (head and all) thrown over the shoulder of his sophisticated and regal black suit.
Beyoncé sported an African-style purple printed head wrap and a lime yellow and white printed, belted flared mini dress. She paired the look with a skunk-printed fur, chunky earrings and black and white fringed sandals and carried a large golden goblet filled with rose petals. She later removed her fur and larger head wrap, revealing a smaller, yellow leopard-printed one.
In Coming to America, three female rose bearers wearing similar head wraps follow Akeem and his royal family everywhere.
But the star of their movie tribute was Blue Ivy. As seen in a family pic Bey posted on Instagram on Sunday, the little girl wore a semi-sheer gold patterned dress and high ponytail, resembling Imani Izzi, Akeem's submissive bride and "queen-to-be," played by Vanessa Bell Calloway.
At the 2015 Met Gala, Beyoncé herself donned a look many people compared to the (noisy) one worn by Akeem's "queen-to-be."
On Halloween night, Bey and Jay donned their costumes at a party at the 1 OAK nightclub in New York City. They spent about an hour there and set at one of the owner's tables, E! News has learned.
"Beyoncé and Jay were dancing and having a great time with each other," a source said. "They were acting very much in love and into each other. They left around 2 a.m."
Also spotted at the party: Model Gigi Hadid, who chatted with Beyoncé for a bit.
Last weekend, Bey also dressed up for a party, wearing an X-Men outfit to fellow R&B star Ciara's costume-themed birthday bash.