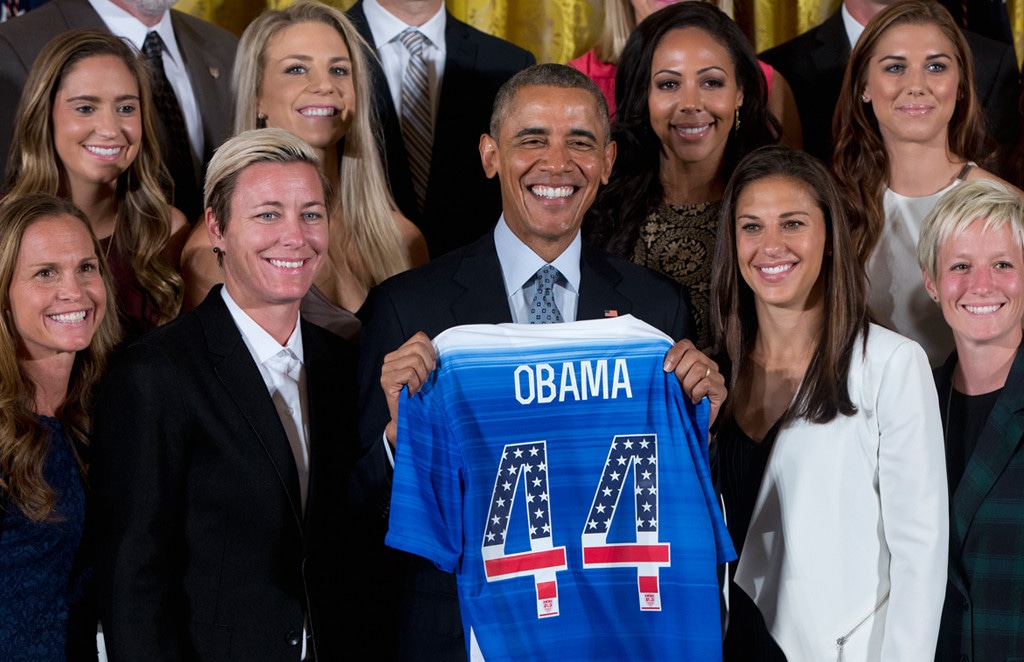 AP Photo/Carolyn Kaster
Preach, President Obama! 
Barack Obama praised the U.S. women's national soccer team at the White House today, where the ladies, who won the 2015 FIFA World Cup in July, were honored for their achievements. 
"This team taught all of America's children that 'playing like a girl' means you're a badass," the 54-year-old POTUS told the team members. 
According to NPR, Obama also singled out midfielder Carli Lloyd, who played a crucial role in the United States' big win against Japan. 
"And Carli's performance was so good that by the time the game was over, someone had changed her title on Wikipedia from 'midfielder' to 'President of the United States.' Which, by the way, the job is about to open up," the 44th president said before poking fun at the current election. 
"I guarantee you Carli knows more about being president than some of the folks who are running. But...that's a whole other topic of conversation," he quipped. 
The father of two also praised the soccer stars for shattering stereotypes.
"They've inspired millions of girls to dream bigger, and by the way, inspired millions of boys to look at girls differently, which is just as important," he said before concluding his speech on a powerful note. 
"Playing like a girl means being the best," the president said. "That's what American women do. That's what American girls do. That's why we celebrate this team. They've done it with class. They've done it with the right way. They've done it with excitement. They've done with style. We are very, very proud of them."
Watch:
Why Michelle Obama Says She Can't Be First Lady Alone