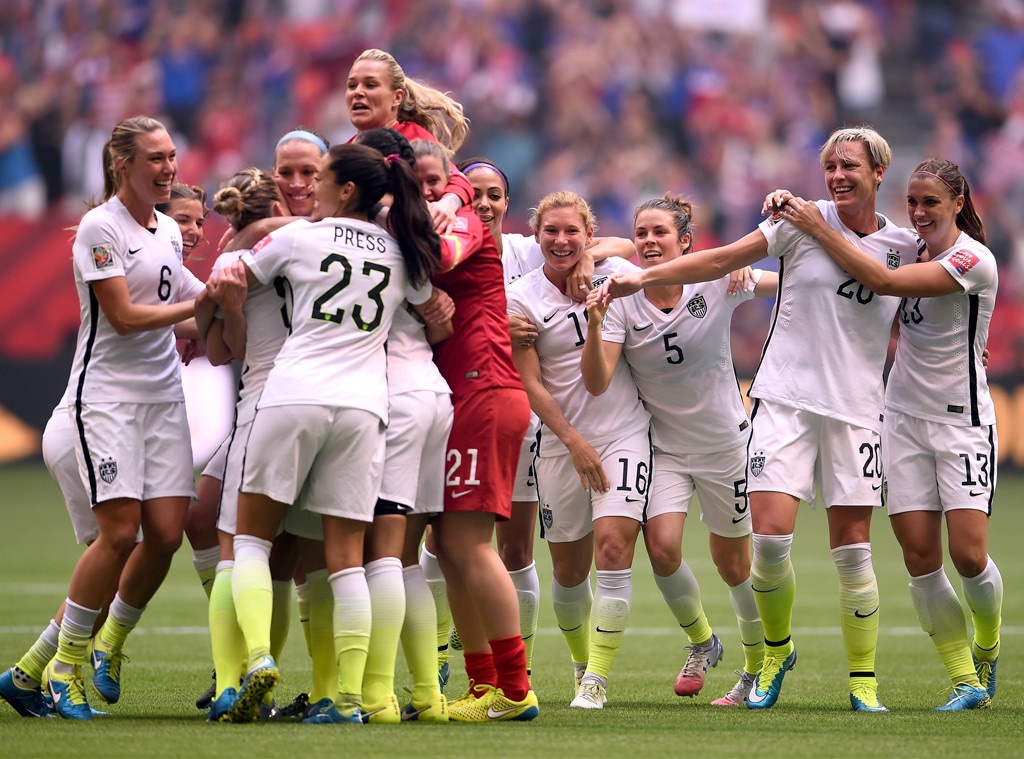 Dennis Grombkowski/Getty Images
USA! USA! USA!
Just when we thought this Fourth of July weekend couldn't get any better, Team USA came out on top at the Women's World Cup final game Sunday afternoon.
Hope Solo, Abby Wambach and the entire team helped pull out a 5-2 victory over Japan to be crowned champions.
But for those watching this intense match, it may have been team captain Carli Lloyd who deserved a little extra time in the spotlight. After all, she scored three goals in 16 minutes. That's how we do it!
We did some digging and found out some awesome facts about this 32-year-old Jersey girl. What we learned may surprise you…in the best way possible, of course! 
1. Sorry Dudes, She's Taken: Lloyd met her fiancé Brian Hollins back in her hometown. They both played on their high school soccer teams and started dating while attending the same school. After 15 incredible years together, Hollins popped the question. They are hoping to get married after the 2016 Rio Olympic Games.
2. Stay Home Family...Please: The two-time gold medalist has not invited her family to come watch her in Canada after she realized her two Olympic victories happened when her closest loved ones were not in the stands. And when she came in second place back in 2011, her family was there cheering her on. Coincidence? Lloyd sure doesn't think so. "When you go solo, it's so much easier to focus," she told Sports Illustrated. "And Brian and my family understand that."
3. Jersey Girl Through and Through: Lloyd grew up in a small town in New Jersey called Delran. While she's been able to travel around the world, there's something about her town that makes her not want to leave. "I've seen the world, I've traveled the US, but there's something special about New Jersey," she confessed. "It's home for me. I like the pace. I like the people."
4. She's Full of Instagram Wisdom: If there's one reason you should start following Lloyd on social media, make it because of her inspiring words each and every week. In between training and game play, the soccer stud gets her followers motivated with relatable quotes from some of her favorite authors. "F.E.A.R. has two meanings," she once wrote. "Forget everything and run OR face everything and rise. The choice is yours." Yes, Lloyd! We choose to rise up (and follow)! 
5. She Scores When It Counts: According to SBNation, Lloyd has played 201 games for the national team and has scored 66 goals. Yes, that statistic is before Sunday's big final game. Two of those goals have been game-winners in the Olympic gold medal games. When the score is tight, we know who we want to see on the field!
Congratulations Team USA. You all have made us so proud! 
Follow all the excitement of the World Cup Russia 2018 on Telemundo Deportes: Copa Mundial de Fútbol Rusia 2018