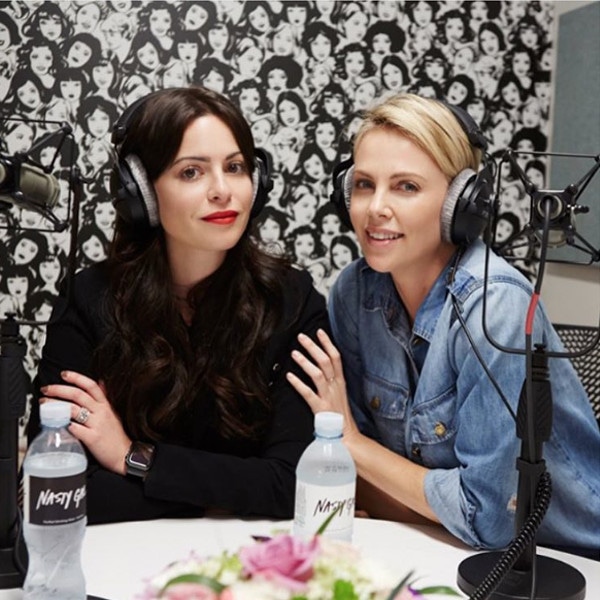 Instagram
Talk about a get!
Charlize Theron joined Girl Boss author and Nasty Gal founder Sophia Amoruso on her first-ever #GirlbossRadio podcast this week to chat about everything from her career to her family to the big issue of the day in her business—the gender pay gap.
It was an inspiring, topic-spanning chat sprinkled with wisdom and insight from both women. And just when we thought we knew it all, here are five things we learned about Theron:
1. A Depressing, Career-Ending Injury Prompted the Switch From Ballet to Acting: "I went to the art school in Johannesburg for ballet, that was my life. I wanted to be a ballerina," the Oscar winner recalled. However, when she was around 18, a doctor told her she needed to stop dancing. All of her small injuries had added up, and she needed to hang up her dancing shoes.
Theron admitted, "It was only once I couldn't do it anymore I went into this really deep depression." She found herself living in New York in "a friend's basement with no windows." Theron confessed, "I hadn't left for like two weeks and I was eating pints of Haagan Daaz just sitting on the couch, and my mom flew out and she basically said, 'You can do this, by the way, in South Africa. We have a couch and we have ice cream.'" With tough love from her mom and a need to discover a new path, Theron realized the reason she loved dance was because of the storytelling aspect, so she decided to try acting. Not fully convinced it was the answer, Theron said, "I really didn't know if acting would be it, but I was willing to give it a shot." That leap of faith paid off in dividends.
2. Hollywood or Bust: Once Theron decided acting was the path she wanted to try, her mom bought her a one-way ticket to Los Angeles. When she got to the airport she told an attendant, "You made a mistake—it Los Angeles, I'm supposed to go to Hollywood!" Theron laughed on the Girlboss show, thinking back to that moment. That innocent attitude is what got her to L.A. though. She admitted honestly today, "If I really knew what Hollywood was about and if I really knew how hard it was to become an actor...I would have never come out."
3. She Had Seriously Good Luck: "I was trying to pay my weekly rent at the Farmer's Daughter [hotel], and they wouldn't cash it, and I was like, 'You don't understand, I'll be sleeping under an underpass tonight, you have to.'" The commotion led the customer behind her to ask if she needed help and that man ended up becoming her manager.
Universal/Kobal/Shutterstock
4. Bridging the Gap: With recent hacks into Sony's emails, the conversation of the continuing fight for equal pay for female actors became a topic of conversation. Theron admits when the emails came out, "I was shocked," and "it was the straw that broke the camel's back, for me, that hack." The actress already had a deal in place to do the sequel for Snow White and the Huntsman. Theron applauded how the studio treated the situation, saying, "I have to give Universal credit."
The gap is no means fully bridged in Hollywood, but Theron said, "I do think we're at such an interesting point where this could change."
5. Motherhood Has Been the Best Role: Theron has adopted two children and says, "It's the one thing, parenting is the one thing in my life that so surpassed how great I thought it would be."
"Trust me there are days I want to kill myself, and then there's an hour of just unbelievable bliss and cuteness that just erases all of that and you forget about it."
Amoruso wrapped up the interview by asking Charlize to offer some advice for girls who want to be bosses of their own life. "Find something you have passion for," and don't forget "resilience and hard work, nothing comes easy." the actress suggested.
Theron added, "It takes a lot of hard work and a lot of sweat. The people that go and do it and work twice as hard as you are the ones that are going to get the job and succeed. So, unless you are willing to put the hours in, don't expect great things to come your way with anything in life."
Watch:
Charlize Theron Dishes on Turning 40!
Charlize Theron dishes on turning 40!
(E! Online and Universal Pictures are both part of the NBCUniversal family.)