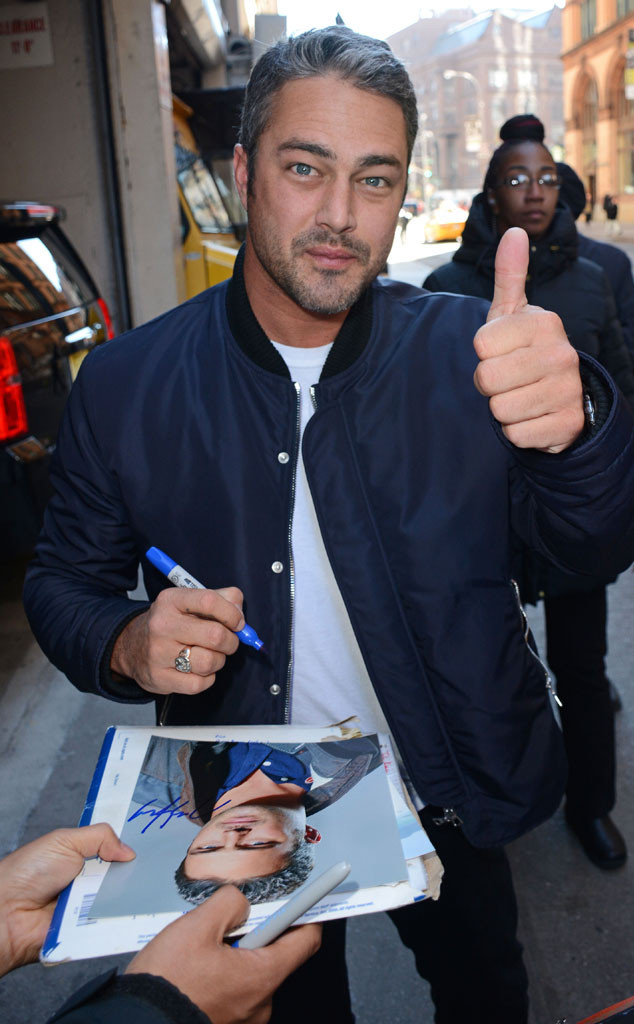 Derek Storm / Splash News
Two thumps up for eloping? Not so fast, Taylor Kinney!
The Chicago Fire star sat down with NBC's Meredith Vieira to go over wedding plans, including where and when the blue-eyed hunk will tie the knot with fiancé Lady Gaga. The superstar couple, who got engaged on Valentine's Day, has been dating soon after they starred together in the singer's 2011 music video for "Yoü And I."
"We don't have a date," Kinney told Vieira on Wednesday's episode of The Meredith Vieira Show. "It's kind of a logistiics thing right now. It's just timing. She's really busy with the show, I'm busy with mine." Kinney is travels to Chicago to fillm for NBC's hit show while Gaga spends a lot of time in Los Angeles for her new lead role in American Horror Story: Hotel.
"I could go to the Little White Chapel but I think, well she's an Italian and that won't happen," he added. "She wants a nice big wedding so I'll let you know when we get a date."
But, Vieira didn't really want to wait to find out, so she asked if the nuptials will take place this year.
"Sure," Kinney said in a noncommittal tone.
Quit playing games with our hearts, Taylor!