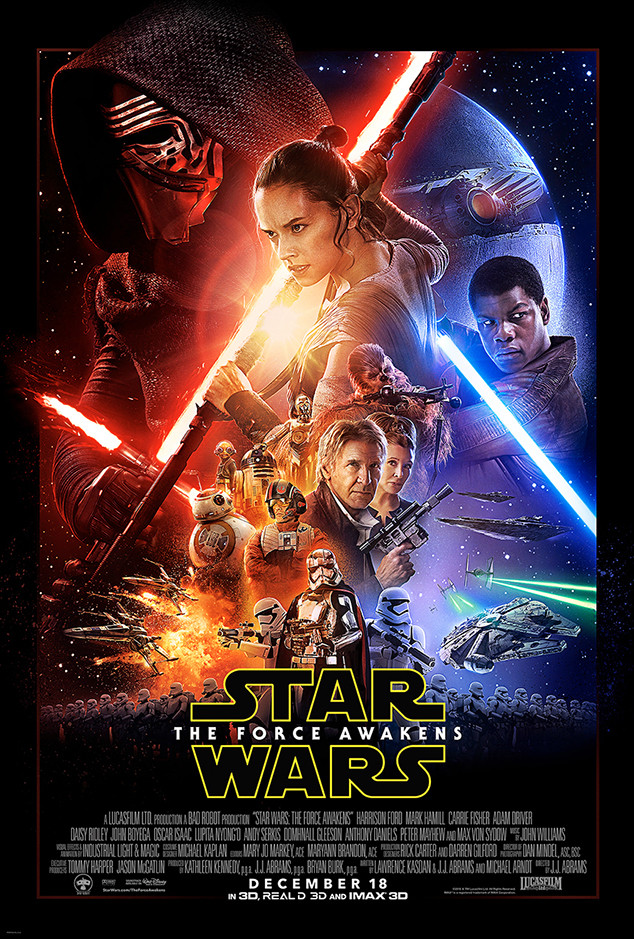 Walt Disney Studios / Lucasfilm
The countdown is on...to the first full-length trailer for Star Wars: The Force Awakens!
Just to get fans even more excited, Disney-Lucasfilm has released on Sunday a new poster for the anticipated seventh film, showing both stars from the original trilogy, including and franchise newbies.
Notably absent: Mark Hamill as Luke Skywalker. Harrison Ford's Han Solo and Carrie Fisher's Princess Leia are featured, and we can see she has apparently traded in her "cinnamon buns" hairstyle for an elaborate updo. Pals Chewbacca, C-3PO and R2-D2 are also seen.
More prominently shown are newcomers Daisy Ridley's heroine Rey, a scavenger, John Boyega as Finn, who wields a blue lightsaber and Adam Driver as the mysterious masked villain Kylo Ren, who holds a red, new type of lightsaber.
The trailer will debut on Disney-owned ESPN's Monday Night Football during halftime in the New York Giants- Philadelphia Eagles NFL game, which begins at 8:15 p.m. ET.