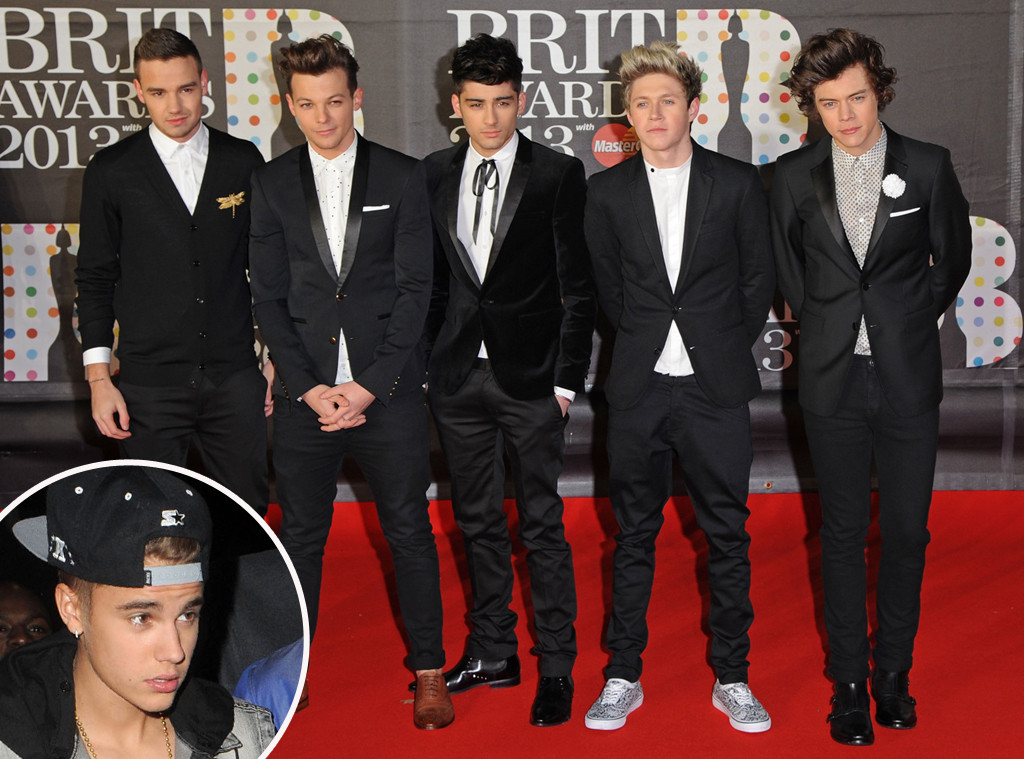 Eamonn McCormack/Getty Images; Palace Lee, PacificCoastNews.com
Justin Bieber and One Direction are in a humorous battle to see which artist will top the charts after the release of their respective new albums. The What Do You Mean? singer and British boy band just happen to share a release date, Nov. 13.
While the fellows have been largely cordial while promoting their latest music, Bieber decided to poke some friendly fun at his competition when he posted a video to Snapchat a few weeks back, saying, "The face you make when you come out with an album the same day as Justin Bieber."
He proceeded to make a terrified face as he recoiled from the camera.
While Justin had us laughing with this dig at the pop group that has topped charts with its previous four albums, we remember that this "feud" has actually been going on for quite some time.
Way back in March, 1D member, Liam Payne tweeted a dig at the Biebs after a fan compared him unfavorably to Bieber.
"@Real_Liam_Payne Isn't it kinda depressing for you to know that Justin Bieber will always be more successful than you?," wrote one die-hard Bieber fan, to which the U.K. native responded, "@arianasmccann how many times have I been arrested?" Ouch...
This time around Bieber is back with yet another dig at the boys to liven up their quest for No. 1. After releasing another single, "Perfect," off their upcoming album Made in the A.M., Niall Horan tweeted, "the reaction has been amazing all day so far.. Thank you ." in response to his fans' appraisal of the track written by Harry Styles, supposedly about ex-girlfriend Taylor Swift.
Bieber quickly responded to the artist in true sarcastic fashion with, "Thank you. Appreciate it ;)" and an iTunes link to his album, Purpose, which is available for pre-order.
Beliebers have been going crazy over this humorous tweet responding with comical memes of 1D members shocked at the 21-year-old's wit. Some fans have even gotten into Twitter wars themselves defending both sides of the battle as the feud gets hotter.
"@justinbieber immature much justin? Well we'll see who comes out on top nov 13, and it'll definitely be niall," wrote one fan to which another responded "immature? No I'd say you're idol is immature. While you're over here backing him up."
@justinbieber immature much justin? Well we'll see who comes out on top nov 13, and it'll definitely be niall

? Samiha (@NiallisSmall) October 16, 2015
While the competition between the artists remains friendly, fans are certainly heating up over these digs.
Even though the two albums have caused quite the controversy lately we can't say we aren't entertained by the witty banter between the boys. We can't wait to see who will ultimately win the top spot on the charts! (It's like 50 Cent and Kanye West all over again!)
What's your guess?! Comment below on who will win the boy band battle.