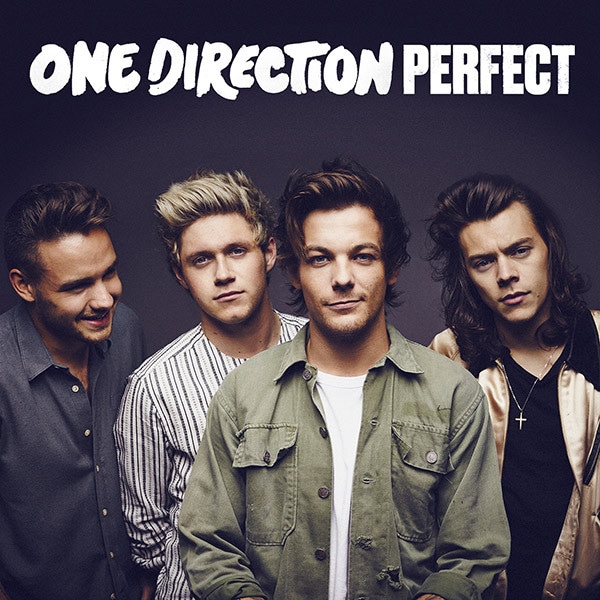 Columbia Records
One Direction released their new song "Perfect" Friday, and according to the band's fans it's, well, "perfect." It's the second single from their fifth album Made in the A.M., which is set for release on Friday, Nov. 13. The song follows the success of "Drag Me Down," the boy band's first single since Zayn Malik quit earlier this year.
Band members Louis Tomlinson and Harry Styles wrote the song along with Jacob Kasher, John Ryan, Maureen Anne McDonald and producers Julian Bunetta, Jesse Shatkin. AFTERHRS also produced the song. After a snippet was released earlier this week, many blogs speculated that the song was about Styles' ex-girlfriend, Taylor Swift; he has not commented on the allegations.
"'Perfect' is for sure a love song, but it's quite a spontaneous love song," Styles said in an interview that aired on the Smallzy's Surgery show on Nova 96.9FM radio in Australia. "It's not one about thinking through too much, being like, 'Hey, I want to be with you for the rest of my life.' It's like well, you know, 'This could be fun.'"
Regarding the songwriting process, Tomlinson told the host, "You write about your own experiences." And, perhaps hoping to divert people from thinking that "Perfect" is about Swift, Styles said, "It doesn't always have to be an exact story."
"I might never be your knight in shining armor / I might never be the one you take home to mother / And I might never be the one who brings you flowers / But I can be the one, be the one tonight," Tomlinson sings in the first verse. Liam Payne follows with the bridge, singing, "When I first saw you / From across the room / I could tell that you were curious (Oh, yeah) / Girl, I hope you're sure / What you're looking for / 'Cause I'm not good at making promises."
Styles takes the lead in the chorus, which led many to believe the song is about Swift. "But if you like causing trouble up in hotel rooms / And if you like having secret little rendezvous / If you like to do the things you know that we shouldn't do / Baby, I'm perfect / Baby, I'm perfect for you," he sings with his three bandmates. "And if you like midnight driving with the windows down / And if you like going places we can't even pronounce / If you like to do whatever you've been dreaming about / Baby, you're perfect / Baby, you're perfect / So let's start right now."
Niall Horan handles the second verse, singing, "I might never be the hand you put your heart in / Or the arms that hold you any time you want them / But that don't mean that we can't live here in the moment / 'Cause I can be the one you love from time to time." After a second chorus, he sings, "And if you like cameras flashing every time we go out / (Oh, yeah) / And if you're looking for someone to write your breakup songs about / Baby, I'm perfect / Baby, we're perfect."
Earlier this week, 1D released the complete Made in the A.M. track list:
1. Hey Angel
2. Drag Me Down
3. Perfect
4. Infinity
5. End of the Day
6. If I Could Fly
7. Long Way Down
8. Never Enough
9. Olivia
10. What a Feeling
11. Love You, Goodbye
12. I Want to Write You a Song
13. History
14. Temporary Fix
15. Walking in the Wind
16. Wolves
17. A.M.
The song "Infinity" is available now for those who pre-order the album.
Watch:
One Direction Talks Life Without Zayn