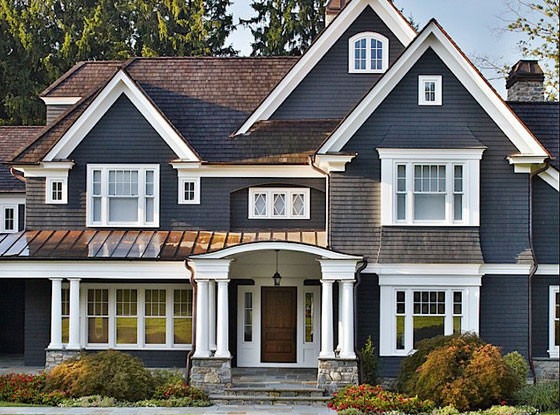 Hey you, on Pinterest! We're onto you. You may disguise your pinning habits with incessant posting of inspirational quotes or salads in mason jars, but you're really spending your time trolling for decorating inspiration.
Because isn't that why the site was invented in the first place? It wasn't so that every mommy blogger in the history of mommy blogging could post the same picture of "meal prep," it was so 23-year-olds working marketing jobs in New York City could daydream about mud rooms. It's an escapist's dream, really. Your body may be sitting at your desk in midtown Manhattan inputting numbers into Excel spreadsheets for eight hours a day, but your mind is installing the perfect white marble countertops into your country home before taking your golden retriever for a walk through the crisp Vermont foliage.
On Pinterest, nothing is out of the question. There is no dinner party too in-depth, no fishtail braid too complicated, no five-minute workout that won't give you Gisele Bundchen's body in a week's time. And certainly no dream home too expensive. 
Just ask the team at Tech Insider, which recently decided to take a survey of the most popular pins on the site. What they came up with is basically an exact layout of Pinterest's perfect house, from its exterior to its walk-in closet. And predictably, it's extravagant. Extremely extravagant. Like, who-the-heck-are-you-kidding-Pinterest levels of extravagant. But silly us, nothing is impossible on the Internet! Not even the aforementioned mommy blogger suddenly coming into an inheritance of millions of dollars and then devoting their life to crafting the dreamiest dream home they ever dreamed.
Just for fun, we decided to price this out a bit. Because while luxuries like walk-in closets the size of an average New York apartment may be free on Pinterest, they cost actual dollars out here in the real world. What we came up with is a very unscientific calculation of just what it costs to live out your perfect pin-y life. We used products from every blogger's favorite home site, West Elm, as well as some of our hard-earned knowledge of facts like how Italian marble is really only used by the likes of Kim Kardashian and Kanye West.
First things first: The total cost we came up with is $2,522,140. And let's preface that with the fact that this is on the low end. It all started with the house itself, pictured above. It turns out that the home exterior that fits the fancy of nearly all the pinners is a 7,000 square foot behemoth in Westchester County, New York. Because why wouldn't it be? You've got to take what you can get in this life. Unfortunately, in this case what you can get costs an average of about $2.5 million. Let's hope you have good credit! Now to the interiors.
Dining Room:
If Gwyneth Paltrow ever moved to Nashville, we're pretty sure this would be her dining room. It's a good thing she's got all that Ironman money, because it costs about $3,100. That's (approximately) $900 for the perfectly rustic farmhouse table, $500 for the coordinating perfectly rustic farmhouse bench, $300 for the hanging pendant, $100 for the plant, $100 for the candles and $300 for the sheepskin rug that's so artfully draped over the rustic farmhouse bench. Who needs to buy food when you can look at this all day, right?
TV Room:
No Pinterest-worthy homemaker would dare to buy a home in which you are forced to put the TV in the living room. The living room is a sacred space meant for reading Elle Decor and scrolling on your phone in a fancy chair. The TV room ("screening room" if you're really rich) is where you retire at the end of a long day for some good old-fashioned Netflix bingeing. $7,540 worth of Netflix bingeing, if you count the $3,000 sectional, the $1,300 shag rug, the $600 marble coffee table, exactly eight $80 fur pillows and the $2,000 entertainment console. Just make sure you get the pillow count right, because if you only have seven you shouldn't even bother.
Bedroom:
This is where the magic happens. Or in Pinterest-land, where you make your 2.2 dimpled children. This room may not look like much to the interior design expert, but it's perfect in the eyes of Pinterest. To nab this you'll need about $3,000: $1,000 for the bedframe, $700 for the nightstands, $800 for the chair and ottoman and $500 for the chandelier. A veritable steal!
Bathroom:
There's not really much the average person is willing to do to spruce up their bathroom. But Pinterest is anything but average. That means you throw in a $600 console, $250 worth of shelving that seems to be made of an old tree and a $250 mirror. You need the fancy accouterments to keep you company while you're perfecting your messy-fishtail-braid-top-knot.
Closet: 
This is the crown jewel of the Pinterest Dream Home. Did you think you were going to store your infinity scarves and chunky necklaces in a drawer like some plebeian? Absolutely not. You're going to hire the best architecture firm you can find to build you a walk-in closet so over-the-top that no E! editor can ever figure out how much it costs. But we do know that you'll need approximately $7,400 to fill up the shoe shelves. But that's the easiest part of all this.