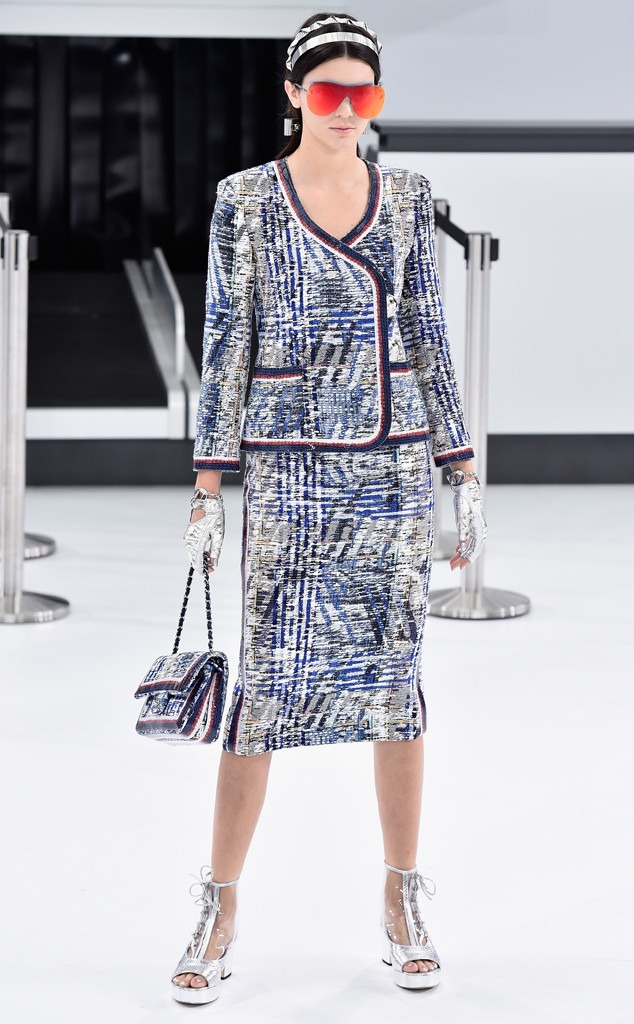 Pascal Le Segretain/Getty Images
Looking fly, Kendall Jenner!
For the spring-summer 2016 presentation, Chanel mastermind Karl Lagerfeld adopted a literal approach when envisioning his "runway" show, transforming Paris' Grand Palais into the upscale Chanel Airlines Terminal. And as one might expect, this isn't your run-of-the-mill, sweats-at-the-airport experience.
As a freshly anointed Chanel muse, Kendall led the supermodel brigade down the high-fashion terminals, sporting two looks from the luxury label's latest collection. The first: A tailored tweed skirt set complete with fingerless silver gloves (not unlike Mr. Lagerfeld's own signature pair) and futuristic red aviator shades, followed by an edgier silver and black design with statement-making blue eye shadow etched across her lids (and also those sleek pigtails below).
No, these probably aren't the comfiest of travel clothes. But at Chanel Airlines, traveling in style is the only option.
Antonio de Moraes Barros Filho/WireImage
It's also worth noting that Kendall did not close the Chanel presentation this go-around, as compared to when she spearheaded the finale for the label's haute couture show this summer (which also solidified her supermodel status in our books). However, this cameo does mark the 19-year-old's eighth appearance on the Chanel catwalk.
Dominique Charriau/WireImage
Now, this being Chanel, the first class cabin front row space was obviously dotted with a few familiar A-listers. Chiefly among them, Cara Delevingne showed her support for Captain Karl alongside girlfriend St. Vincent. (And yes, at first it might seem odd that the Chanel darling would sit this one out, but recall the British beauty is taking a modeling hiatus while she pursues her acting career).
Rindoff/Le Segretain/Getty Images
Also checking in at the Chanel terminal was Lily-Rose Depp, who you might recall made a cameo at the haute couture show as well and has since scored an eyewear campaign with the famed design house. Plus, mama Vanessa Paradis made a front row appearance along with Lewis Hamilton, Kris Jenner, Corey Gamble and (of course) Anna Wintour. 
As for the show itself, this isn't the first time Lagerfeld has tinkered with the idea of aviation-inspired displays, most recently utilizing the theme for Chanel's 2012 couture show staged inside a jumbo jet. But we'll give him a well-deserved A-for-effort on theme here—after eyeing this show, we'd gladly fly with Chanel Airlines any day.
Dominique Charriau/WireImage
Pascal Le Segretain/Getty Images
Watch:
Kris Jenner Talks Epic Day at Paris Fashion Week