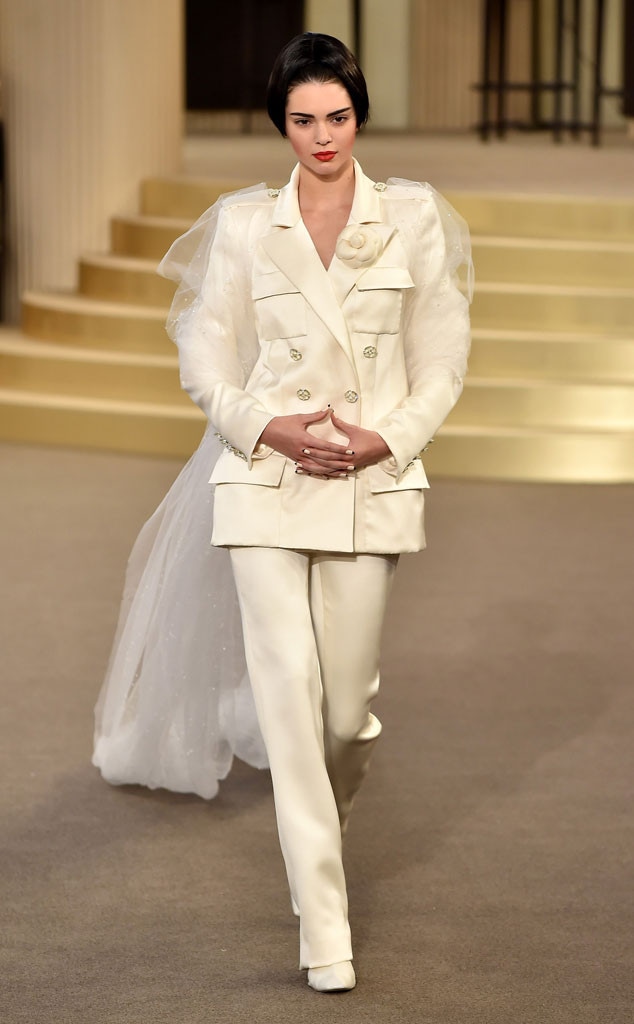 Gareth Cattermole/Getty Images
Karl Lagerfeld  just gave Kendall Jenner a major promotion.
For her seventh Chanel fashion show appearance, the E! star closed the label's casino-inspired show in a crisp white bridal pantsuit. Yup, that's right, she got to walk the runway solo. An act that officially solidified her status as a full-blown supermodel.
Styled with an edgy blunt bob, bold brows and flushed cheeks, the wedding blazer featured a structured double breasted silhouette mixed with delicate white roses and a lengthy veil.
Quite a different vibe then the goddess divine look she sported just days earlier at the Versace Atelier fashion show. 
Post-show, the 19-year-old E! starlet shared a candid decked out in the lux wedding wear with Chanel's mastermind, writing: "Of course I said yes."
Antonio de Moraes Barros Filho/WireImage
Although she stole the show, Kendall wasn't the only high-profile Chanel darling to take the runway. Julianne Moore and Kristen Stewart made a cameo at the "Cercle Privé" (AKA private circle) show in the elaborate Grand Palais des Champs-Élysées, where large card tables and slot machines transformed the historic space into a Chanel casino. The A-list actresses played cards center stage with Lily Collins, Rita Ora, Lara Stone, Jemima Kirke, Vanessa Paradis and Lily-Rose Depp as the runway models paraded Chanel's latest line around them.
Noticeably missing from the Chanel runway was the Lagerfeld-adored Cara Delevingne, who's out promoting the upcoming flick Paper Towns, in which she makes her acting debut. Otherwise, there's no doubt the 22-year-old model would've been front and center at the show. 
Based on this star-studded turn out though, the cards at this casino were clearly stacked in Chanel's favor.