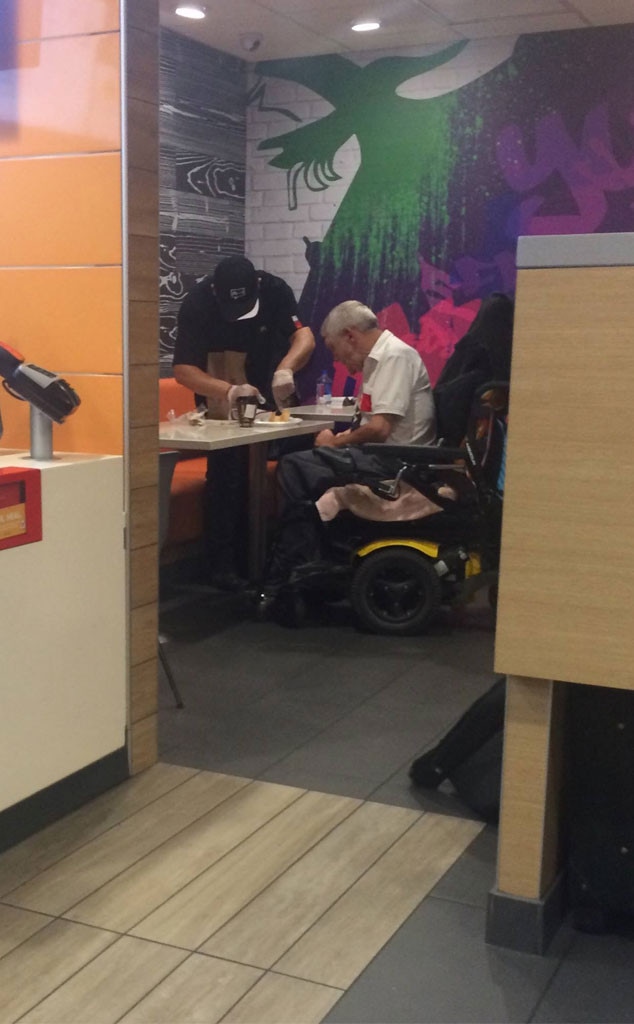 Destiny Carreno, Facebook
There's a lot of negativity in the world, but there are still some darn good people out there, too.
Case in point? Kenny the cashier, an employee at a McDonald's in Chicago. Last week, Kenny helped an elderly disabled gentleman who needed help eating his dinner.
Destiny Carreno, a customer who saw Kenny's kindness firsthand, was in awe of the McDonald's employee's kindness. She snapped a photo of Kenny helping the man cut his food and posted it to Facebook as a reminder that "Compassion has NOT gone out of style."
"This employee, who put everything on hold for this man, went above and beyond his responsibilities to help this handicapped customer out," she wrote. "That was the kindest and most humble thing I had ever seen."
It didn't take long for the image to go viral. As of today, it's been shared over 315,000 times on Facebook.
Rod Lubeznik, the owner of the McDonald's where the photo was taken, said the company is very proud of the employee. In a statement to NBC5 Chicago, Mr. Lubeznik said the chain is "overwhelmed by the positive response [Kenny] received for his compassion and kindness."
"It's a true testament to who Kenny is," the statement continued, "and a reminder to us all that one seemingly small act of kindness can touch the hearts of so many."
Watch:
How Orlando Bloom Plans to Inspire Son