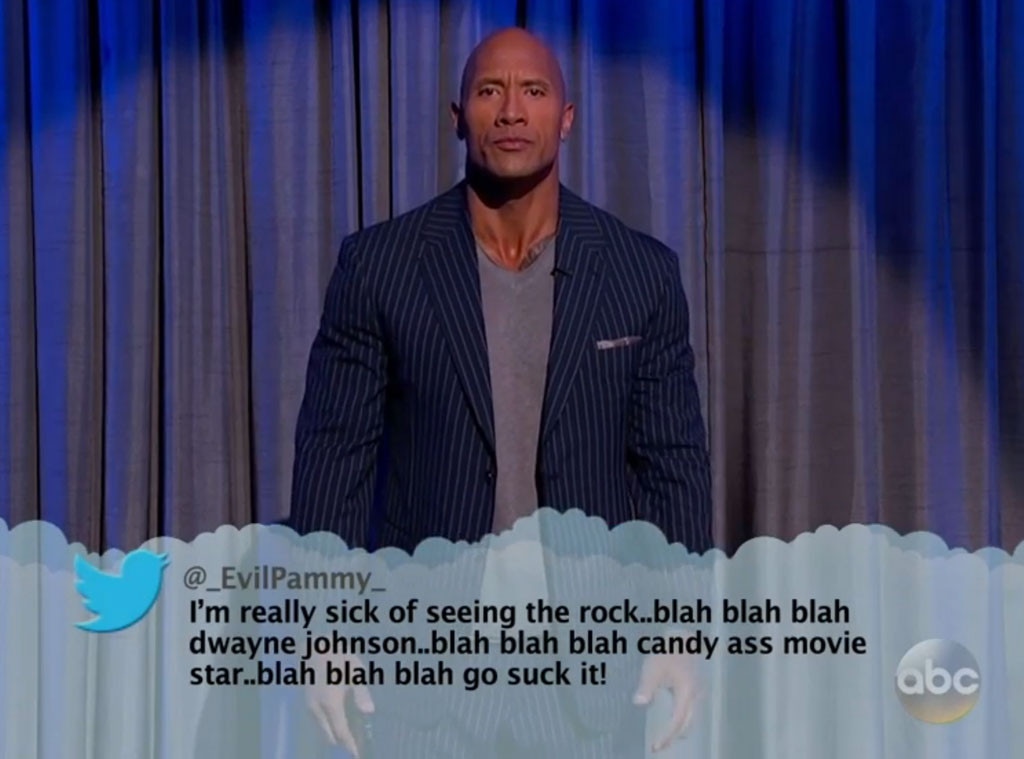 ABC
Jimmy Kimmel's spotlight on social media shaming continued Tuesday.
The second night of "Mean Tweet Week" featured a slew of celebrities reading nasty comments about themselves on Jimmy Kimmel Live!. "Twitter, as you know, makes it very easy for people to say terrible things to each other, especially to famous people," the host said. "Tonight we invited three famous people to read some of the real terrible things people have written about them." Rather than showing a video montage of stars reading out the tweets, he invited to them to do it live on ABC's late-night show.
Prior to introducing the surprise celebrity guests, Kimmel went into the audience to find viewers who would confess to tweeting terrible things about famous people. One woman, who is a "diehard" fan of Scandal and its star (and that night's guest) Kerry Washington said she has bashed Scott Foley. "I told him he's ruining the show, and when he kisses Olivia it looks like two fishes kissing," she admitted. "It just doesn't look right. They don't have chemistry together. She's much better with Tony Goldwyn."
Hopefully Washington wasn't watching backstage.
Dwayne "The Rock" Johnson was the first celebrity to walk out from behind the curtains, and he read a message from @_EvilPammy_: "I am really sick of seeing The Rock … blah, blah, Johnson, blah, blah, candy ass movie star, blah, blah, go suck it." The action star responded, "I'll give you something to suck."
As Johnson walked offstage, Kimmel said, "He's upset."
The next victim was Bette Midler, who read a tweet from @studioexec1: "Some people ask me who has the biggest penis in Hollywood? Easy. Bette Midler." The Divine Ms. M didn't appear to be too offended.
Last but not least, Taken star Liam Neeson admitted he wasn't taken with what @DigitalSnackman had tweeted him: "Liam Neeson is a butterface. In that his face looks like a butt. Eat s--t fart breath Neeson."
Jimmy Kimmel Live! airs weeknights at 11:35 on ABC.