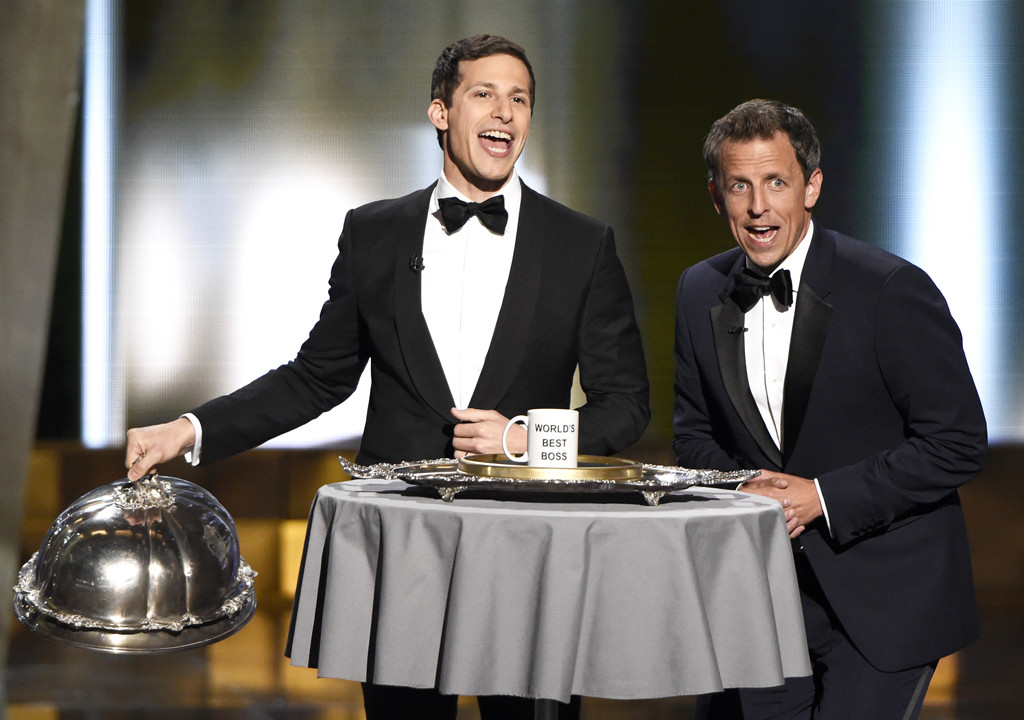 Chris Pizzello/Invision/AP
Well, he tried.
Andy Samberg was an impossibly spot-on Emmys host, landing joke after joke, more than making up for any awkward moments with his whoa-that-failed! aw-shucksness and even tackling hugely important issues in a manner fit for sound-bite sharing and a 3-hours-or-bust running time.
So of course no one watched him do it.
OK, not exactly no one. The early overnight estimate is that 11.9 million viewers tuned in—which would be pretty good for Brooklyn Nine-Nine, but those aren't event-TV ratings!
What was the deal? Weren't people aware of the chances that history was going to be made (which it was, several times) on live TV? Did they not care that Allison Janney was a shoo-in to tie Ed Asner's all-time tally for Emmys wins?!
Hmm...
More likely, TV's biggest night has been gobbled up by the very beast that has also made this such an exciting time for television. There are more characters for women of all ages, many shows are increasingly reflecting how people actually look and live, HBO shows male genitalia... It's a real golden age.
But it's more like a Silicon (Valley) age, because there are just so many ways to consume programming, such as in bite-size morsels that have been clipped for maximum portable viewing online. Appointment viewing, opening credits to closing, from a stationary position at home is increasingly uncommon. And you don't even really need a TV anymore to watch TV, let alone a cable subscription! (Basically, the programmers that bring you football on Thursday, Sunday and Monday are the only ones who have nothing to worry about.)
The Best Actor in a Comedy Series prize went to a beyond-deserving Jeffrey Tambor for Transparent...which streams on Amazon. A sizable portion of award-doling-out last night was for Olive Kitteridge, a supremely well-done, masterfully acted and depressing HBO miniseries that you've probably been meaning to watch on HBO Go (or Now) for months but just haven't gotten around to yet. You will when you're in the mood.
The Daily Show With Jon Stewart was the best thing ever and still, only a million-and-some-change tuned in on a nightly basis.
Kevin Winter/Getty Images
And then we come to Game of Thrones, a show that the Internet is obsessed with and that seemingly all of your friends and co-workers are always talking about, the show that launched a thousand Jon Snow conspiracy theories at season's end. Only 8.1 million people watched the cliffhanger-packed season five finale. A record number for the show itself, which then proceeded to make Emmys history by notching 12 wins this year (the previous record was The West Wing's nine wins), but what amounts to a niche show doesn't equal massive, M.A.S.H./Friends/Seinfeld finale caliber Emmys ratings.
There's a reason why the highest-rated Oscars in the past couple decades was Titanic year.
Sometimes we forget that there's such a disconnect between what's happening on Twitter and what people are actually watching (Sharknado, anyone?) but we were also instantly reminded by early tweets last night suggesting that Samberg was bombing.
Phil McCarten/Invision for the Television Academy/AP Images
Because, er...no he wasn't!
The Lonely Island parodist, former Saturday Night Live standout and Golden Globe-winning Brooklyn Nine-Nine star did a great job, not least because he kept the show moving and brought that puppy in on time with a minute to spare.
From his epic Les Mis-themed opener about binge-watching to the tribute to Lorne Michaels that was actually a tribute to Shonda Rhimes, to the moment when he gave everybody prescient enough to tune in some free HBO Now for a few hours, Samberg hit almost all the right notes. And even though he wasn't two hosts named Tina Fey and Amy Poehler or a more topical comedian, like Seth Meyers, he didn't shy away from the real-deal issues of the day.
Phil McCarten/Invision for the Television Academy/AP Images
"Racism is over—don't fact check that," Samberg quipped merrily when pointing out that this year's Emmys field was the most diverse ever.
Another zinger: "The wage gap between men and women hired for major roles in Hollywood is still an issue...Wait. I misread that. The age gap between men and women hired for major roles in Hollywood is still an issue.
"I misread that again. It's both."
There was the requisite Donald Trump mention, and he went there: "Donald Trump, of course is running for president, to the delight of uncles everywhere. But I've gotta say, sure, Donald Trump seems racist." Making a show of moving on, he continued, "What else?"
And that was all about the Donald (from Andy, anyway), but he proved right then and there that you don't need to go on. Sometimes, using just the right hard-hitting word does all the work for you.
Phil McCarten/Invision for the Television Academy/AP Images
As the evening went on, Viola Davis became the first black actress to win the Emmy for Best Lead Actress in a Drama, and both Uzo Aduba and Allison Janney became the new Ed Asners (Uzo, like Ed, by winning in both drama and comedy categories for the same role, and Janney for tying his total of seven Emmys—one more and she's the new Cloris Leachman!). Moreover, Jon Hamm finally won a Best Lead Actor in a Drama Emmy for Mad Men and Veep ended Modern Family's Best Comedy win streak at five. And, of course, the night ended with Game of Thrones' big win.
And surely more people will ultimately watch all of these moments. Online. On their phones. Streaming. In pieces.
We don't all have to watch TV together, but then we can't be surprised that no one wants to watch it being honored together either.
Related:
Andy Samberg Spills Hosting Plans for 2015 Emmys