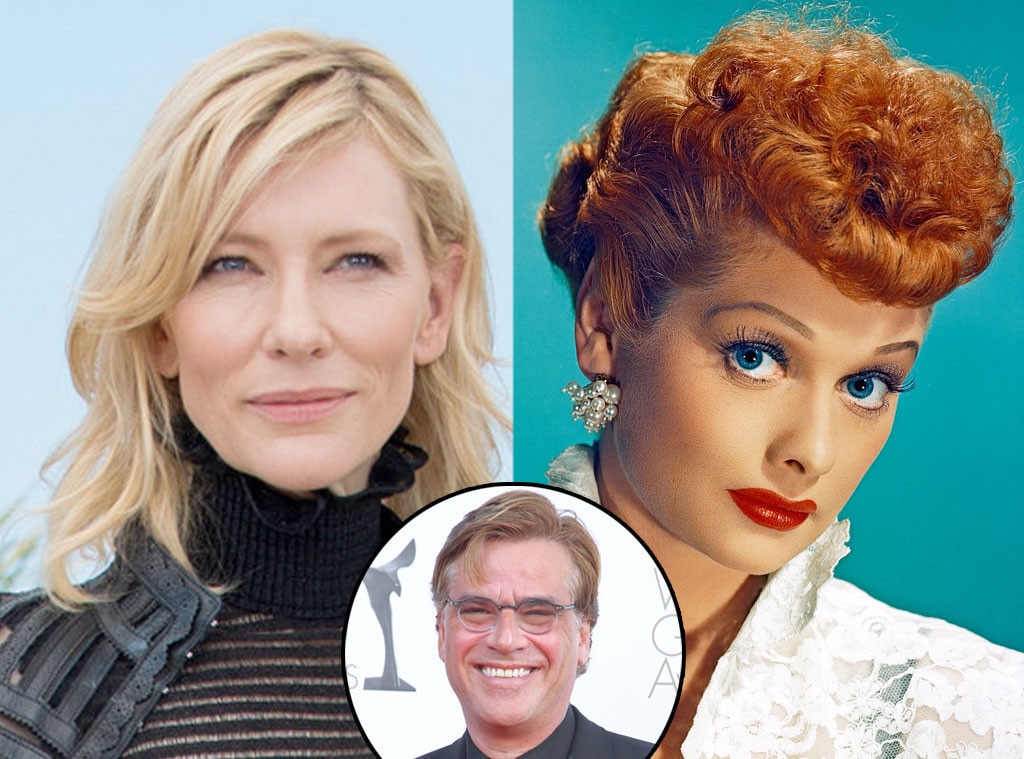 Samir Hussein/WireImage; Getty Images
Escape Artists may have some 'splainin' to do.
The Internets (yes, we're bringing back that term from the Bush years) were ablaze with excitement (and a little confusion) after The Wrap reported that Oscar winner Cate Blanchett is attached to play Lucille Ball in an authorized biopic chronicling the comedy legend's 20-year marriage to Desi Arnaz.
Siblings Lucie Arnaz and Desi Arnaz Jr. are reportedly teaming up to produce the film with Sony-based production shingle Escape Artists, hence the authorization.
But what social media seemed most nonplussed about was the news that Aaron Sorkin was writing the script. A source tells E! News, meanwhile, that the Oscar winner has not officially committed to the project, though the studio does want him. 
Sorkin, who also created verbose series such as The Newsroom and The West Wing, has penned generally well-received scripts about real-life figures such as Mark Zuckerberg (The Social Network), Billy Beane (Moneyball), Charlie Wilson (Charlie Wilson's War) and, presumably, Steve Jobs (the upcoming Steve Jobs).
But the 54-year-old scribe has also been routinely criticized for not being able to write particularly well for female characters. A Time op-ed supported that argument last December, noting, "Sorkin celebrates the male mind while making women the objects of lust or scorn. The few women who do make it into Sorkin's scripts are usually in need of rescue by the men in their lives."
BTW, the op-ed was in response to a Sorkin email unearthed in the Sony hack in which he wrote, among other things, that Blanchett's Oscar-winning role in Blue Jasmine required "nothing close to the degree of difficulty" demanded of the Best Actor nominees.
So the idea of a film about a strong, female entertainment icon being written by Sorkin didn't initially go over to well on Twitter:
We're wondering, meanwhile, if Blanchett—should she officially sign on—has a say in who writes the words that she'll be tasked with bringing to life.
"That's why year in and year out, the guy who wins the Oscar for Best Actor has a much higher bar to clear than the woman who wins Best Actress," Sorkin wrote in an email to The New York Times' Maureen Dowd that was obtained by The Daily Beast in the wake of the Sony hack.
"Cate gave a terrific performance in Blue Jasmine but nothing close to the degree of difficulty for any of the five Best Actor nominees. Daniel Day-Lewis had to give the performance he gave in Lincoln to win—Jennifer Lawrence won for Silver Linings Playbook, in which she did what a professional actress is supposed to be able to do. Colin Firth/Natalie Portman. Phil Hoffman had to transform himself into Truman Capote while Julia Roberts won for being brassy in Erin Brockovich. Sandra Bullock won for 'The Blind Side' and Al Pacino lost for both Godfather movies. Helen Mirren and Meryl Streep can play with the boys but there just aren't that many tour-de-force roles out there for women."
Watch Michael Fassbender in the full-length trailer for Sorkin's Steve Jobs.