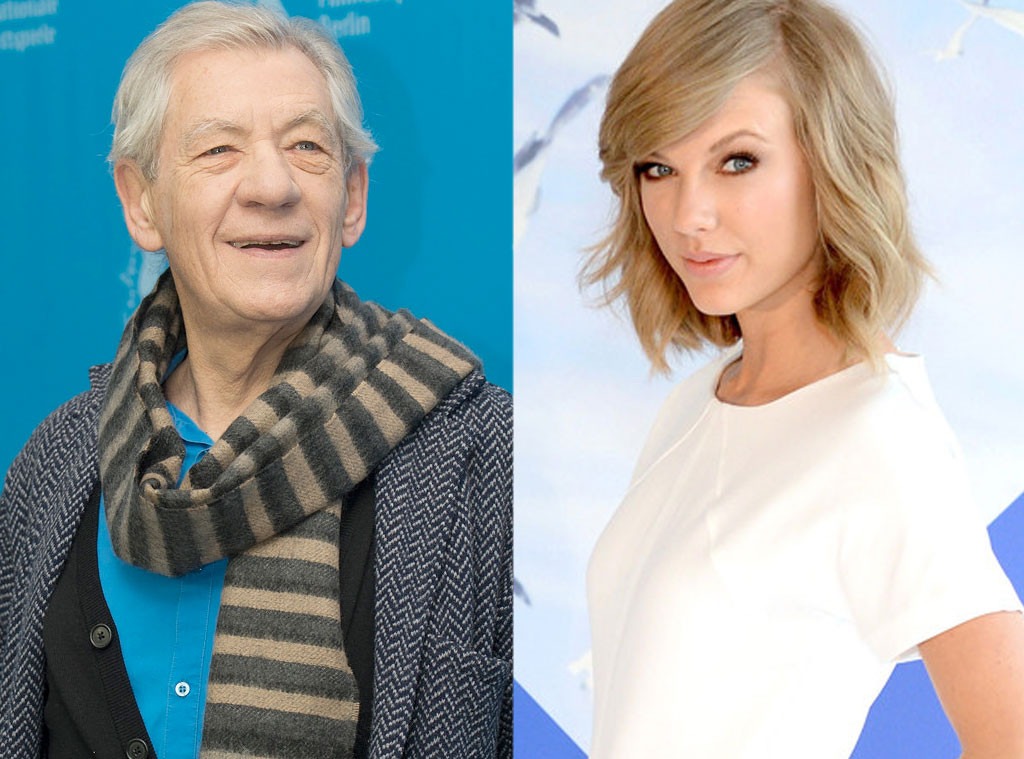 Getty Images
Taylor Swift is one brutal landlord!
We kid, we kid. But the "Wildest Dreams" crooner did have Sir Ian McKellen evicted from an apartment in New York! The Lord of the Rings star was staying in director Peter Jackson's apartment when T.Swift purchased it and had him removed.
"When I was living in Peter Jackson's apartment in New York, Taylor Swift bought it while I was there and I was thrown out before I wanted to leave!" he said in an interview with Gay Star News. "That hardly puts me in Taylor Swift's team, does it?"
No, it doesn't seem McKellen has made the cut into Swift's squad, which includes Selena Gomez, Gigi Hadid and many, many more. But it doesn't seem there is any "Bad Blood" here! McKellen completely understood why he had to vacate the premises once the pop star had made it a home of her own.
"She bought [the apartment], she had every right to—I was just lodging there for free!" he added. "She did ask me to appear with Patrick Stewart at her show in L.A., but I had something else to do that night."
McKellen and Stewart first showed their love for Swift when they recited the lyrics to "Blank Space" on NPR. Swift caught wind of it and the trio embarked on a Twitter exchange for the ages.
"So @IanMcKellen recited 'Bad Blood' and I did 'Blank Space' on @NPRAskMeAnother. May we join the squad, @taylorswift13?" Stewart tweeted in July.
"Thanks for reciting my lyrics, @IanMcKellen and @SirPatStew! You've made my day. You two are ULTIMATE Squad Goals, Swift replied, alongside a photo collage showing his and McKellen's epic bromance.
So while McKellen was unceremoniously booted from Swift's current stomping grounds, it looks like these two were able to overcome that hiccup and move their friendship forward. We're sure she let it slide when he couldn't make it to her show, so he might still be able to be part of the squad! (But maybe without the #SquadGoals.)
Watch:
Why Jaime King Chose Taylor Swift for Godmother!