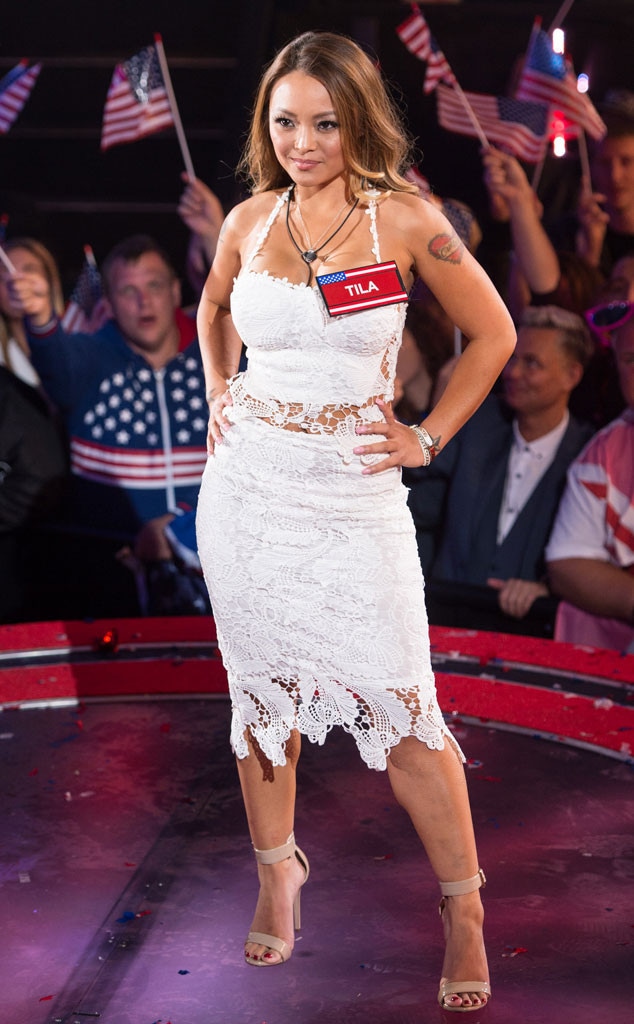 Ian Gavan/Getty Images
Tila Tequila has been kicked of the U.K. series Celebrity Big Brother season 16 over comments she made about the Holocaust and late Nazi leader Adolf Hitler more than a year ago and is now apologizing for her remarks.
The 33-year-old reality star and glamour model, whose real name is Thien Thanh Thi Nguyen, had in December 2013 penned a blog post titled "Why I Sympathize With Hitler Part 1: True History Unveiled," in which she called the deceased dictator a "good man" and "man of compassion." After she was cast on Celebrity Big Brother, the U.K.-based group Campaign Against Antisemitism started a Change.org petition called for the removal of the "Nazi housemate."
"Unfortunately, Channel 5 and [production company] Endemol did not know about the views and attitudes Tila had expressed in social media postings prior to her involvement in Celebrity Big Brother. When they were brought to our attention, she was called to the Diary Room for a discussion with producers and was subsequently removed from the house," a rep for Channel 5 said in a statement to E! News on Saturday. "The views Tila had expressed, and permitted to remain uncorrected, are totally unacceptable and, accordingly, her continued involvement in the program was untenable."
Following her firing, Tequila took to Twitter to issue an apology.
"Back in 2013, I made a statement about Hitler not being a bad person and immediately realized soon after that I had made a terrible mistake that would ultimately come back to haunt me," she wrote in a retweeted statement. "During that time, I had been suffering from severe depression and drug addiction for many years prior to that. I also attempted to commit suicide in 2012 and overdosed on prescription pills. I wanted to die. I felt worthless and unloved as that pain continued to grow, causing me to further spiral out of control."
"I am deeply sorry for my irresponsible, reckless and selfish actions and I hope that everyone can forgive me for the pain that I may have caused," Tequila continued. " I want to be a good role model for my daughter because I don't want her to go through what I had to endure. I hope that I will be given a second chance at life to make things right again."
Tequila gave birth to daughter Isabella Monroe last November.
In her original blog post, she had said, regarding Hitler, "I feel extremely compassionate and sympathy for the man with a ruined legacy as well as a forever condemned great people of Germany!"
"I understand the Jewish people went through some s--t too," she continued, referring to the some six million Jews murdered in the Nazi Holocaust during World War II. "But hey guess what?? SO DID THE MAJORITY OF THE PEOPLE WHO SUFFERED IN EVERY SINGLE WAR THST TOOK PLACE! "You were NOT the only ones!  So please, if the rest of us can forgive and forget maybe it's time you do also!!! [sic]"
Tequila had also posted on her Facebook page at the time a Photoshopped photo of herself wearing a red swastika armband and an SS uniform cap, standing in front of the entrance to the Auschwitz death camp.
"I am in no way, shape or form nor antisemitic and absolutely 100 percent not a Nazi supporter [sic]," Tequila said in her apology statement. "It was a careless mistake I made in 2013 while suffering severe depression, drug addiction and [being] suicidal. This is not the woman I have grown up to be today and the loving mother that I have become. I humbly ask for forgiveness from everyone I may have hurt or offended."
"I hope that Celebrity Big Brother will give me a second chance," she added.
It is unclear if Tequila will be paid for her participation on the show. She remained in the Celebrity Big Brother house for one day, along with cast members such as Farrah Abraham, Janice Dickinson and Jenna Jameson. Channel 5 no immediate comment.