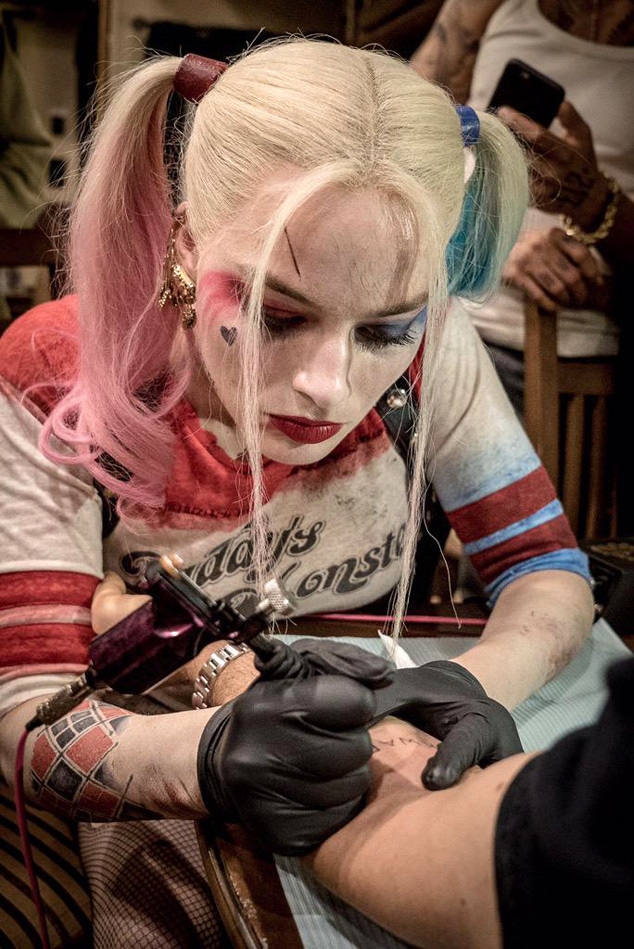 Twitter
Harley's Tattoo Parlour is open for business!
As filming continues for the highly anticipated film Suicide Squad, Margot Robbie appears to be commemorating the experience in a very personal way.
"Skwad," David Ayer wrote on Twitter Tuesday afternoon alongside a photo of Robbie in full Harley Quinn costume as she seemingly inks an unknown man's left arm.
While the lucky fellow's identity remains a mystery, we can confirm Jai Courtney recently received a "Skwad" tattoo. Will Smith also tattooed Joel Kinnaman, as seen in photos posted on Instagram. Does this pic on Ayer's account mean that the movie's director is the latest guy to get inked? Hmmm...
What we can tell you is the upcoming movie is going to be dark. It's so dark that Ayer has hired an on-set "therapist" of sorts to prevent his cast from going too far for their roles.
"David Ayer is about realism," Adam Beach shared with E! News. "So if your character is tormented, he wants you to torment yourself. He wants the real thing." (So obviously if your character is tattooed...)
Beach continued, "We kind of have, like, a therapist on board if you fall off the wagon and really are villainous...Us actors explore very fine thin lines going to the dark side and he wants to make sure we finish a movie and don't disappear somewhere and then don't show up for work."
The highly anticipated action movie tells the story of a secret government agency that recruits imprisoned supervillains to execute dangerous missions in exchange for clemency. Jared Leto, Cara Delevingne, Scott Eastwood and Ben Affleck also star in the film.
Suicide Squad is scheduled to hit theatres Aug. 5, 2016. 
Watch:
Will Smith Gets Pumped Up for "Focus"