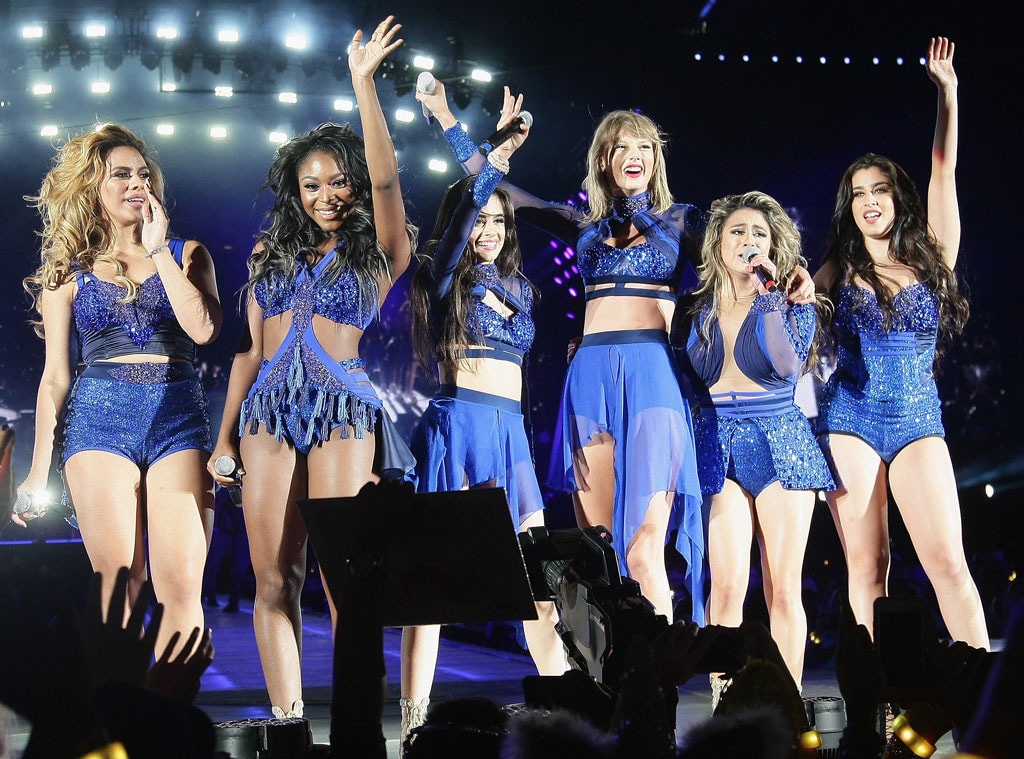 John Medina/LP5/Getty Images for TAS
Meet the newest member of Fifth Sixth Harmony, Taylor Swift!
OK, not really. But the 25-year-old starlet did get to be an honorary fifth member of the pop group when she invited Dinah Jane Hansen, 18, Camila Cabello, 18, Ally Brooke Hernandez, 22, Lauren Jauregui, 19, and Normani Kordei, 19, to perform with her onstage as her surprise guests at her concert on Friday in Santa Clara, California.
"I want to be in Fifth Harmony," Swift tweeted, alongside pics of herself with the group.
The singers are the latest celebs to join her squad of famous friends, many of whom have appeared at her shows during her 1989 tour and also star in her "Bad Blood" music video.
"IT WAS HARD TO KEEP IT A SECRET. Ohhh mah gosh!! tonight was AMAZEBALLZ !! #1989TourSantaClara," Hansen said.
"THAT WAS SUCH AN INCREDIBLY MAGICAL EXPERIENCE!!! THANK YOU @taylorswift13 FOR HAVING US," Jauregui tweeted. "Such a special moment I'll remember forever."
She and Fifth Harmony donned fierce, royal blue, sparkling outfits designed by costume designer Marina Toybina and performed the group's hit song "Worth It" for the some 65,000 audience members. Swift and Cabello sported the same style—a long sleeve, jeweled, half-sheer, cleavage-baring halter crop top and chiffon asymmetrical fairy skirt.
"I cant believe that frickn happened THANKS TSWIZZLE @taylorswift13," Hansen tweeted. "I loved your outfit hehehe...it was so blue !!"
Kordei said the night was "was a literal dream."
"THANK YOU for the opportunity #6th," she tweeted.
"I CANT EVEN SEE PAST MY TEARS TO TWEET- Camila @taylorswift THAT WAS SO AMAZING," read a post on Fifth Harmony's Instagram page, alongside a video of the joint performance.
"I will remember this moment for the rest of my life. Thank you so much, Taylor. @taylorswift #1989TourSantaClara," Hernandez said on her own Instagram page.
She shared a photo of herself hugging Swift.
John Medina/LP5/Getty Images for TAS
The singer also shared a pic of herself with Fifth Harmony before the concert, saying, "Sound check with @fifthharmony right after they taught me their choreo and before they lent me one of their outfits so we could all be twinzies."
"Ur one of the greatest friends i've ever known and tonight was beyond my wildest dreams. *no pun intended*," Cabello tweeted. "Thank you so much @taylorswift13."
Watch:
Fifth Harmony Gushes Over Performing With Taylor Swift!