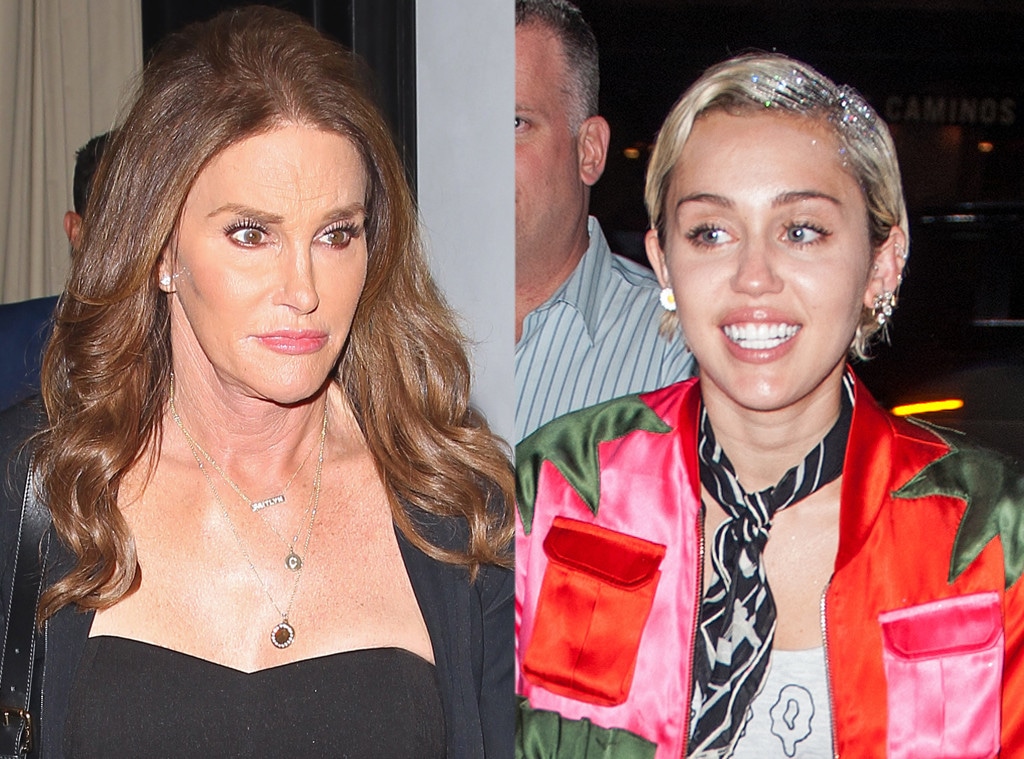 Roger/AKM-GSI, IGGI /Splash News
New besties alert?!
It seems as though Miley Cyrus has added another famous face to her circle, and that famous face is Caitlyn Jenner.
During the young singer's interview for her Marie Claire cover story, Cyrus revealed that Jenner considers her as a friend, and that the two have bonded over Caitlyn's highly publicized transition.
"We've talked a lot about how you can never make every single person happy," Miley tells the mag for their September issue.
"We always laugh about people saying she transitioned to be famous. Which is crazy. Caitlyn has to tell her story, because if she doesn't, everyone else is going to tell it for her."
This budding gal-pal relationship may not seem too surprising for many, however.
After all, Miley was one of the first celebs to tweet her support after Caitlyn's debut Vanity Fair cover was released two months ago, and even used the image as inspiration to create four pieces of artwork that was auctioned off at amfAR's Inspiration Gala to raise money for HIV and AIDS research.
Furthermore, Cyrus has proven herself to be an avid LGBT advocate in the past year, launching the Happy Hippie Foundation to help homeless and at-risk LGBT youth, and recently started an Instagram campaign "to share the stories of transgender and gender expansive people from around the country."
This isn't a one-way street, either. Jenner has made it a priority to speak with transgender youth, and during a visit to Los Angeles LGBT Center's Youth Center program in Hollywood in June, Caitlyn brought Miley up in conversation.
"They were really excited to meet her," a source told E! News at the time. "Caitlyn was really friendly and even referenced Miley Cyrus' visit to the Center. She also brought some clothes for them." (The pop star visited the Center in January to talk about HIV/AIDS prevention as part of her work with the MAC AIDS Fund.)
So you see, this friendship was meant to be!
Watch a brand new I Am Cait this Sunday at 8 p.m., only on E!