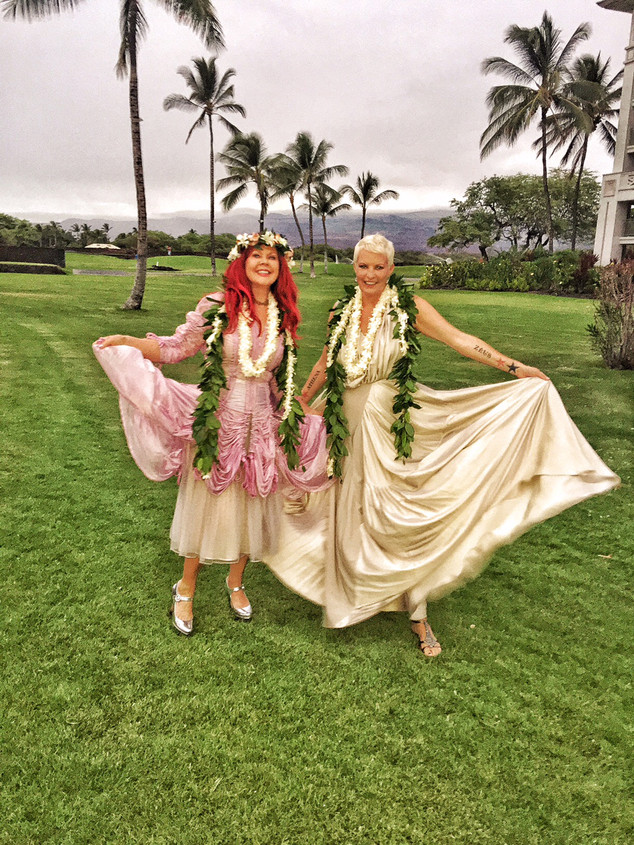 Courtesy of Kate Pierson
Even though it's a big week for Hollywood divorces, it just so happens to be a week of weddings, too!
Kate Pierson, one of the lead singers of The B-52s, married longtime partner Monica Coleman in Hawaii over the weekend. Pierson posted several photos of the weekend in Hawaii to her Facebook, giving fans an inside look at their romantic destination wedding. Pierson donned a pink, Victorian-style dress while her now-wife opted for a gold gown.
Wearing a floral crown, Pierson looked elated posing next to her wife. "#itsofficial!" she captioned the picture.
She also posted an up-close selfie with her wife right after the reception, with both women wearing leis to celebrate their union. "Married now! @monicanation," she captioned the happy pic.
"The wedding was attended by the entire B52s band, Sia Furler and husband Erik Anders Lang were the witnesses," a rep for Pierson tells E! News. "Sia performed the song she wrote for the couple 'Crush Me With You Love' on Pierson's first solo album Guitars and Microphones and was accompanied by the famous Hawaii music group the Lim Family who serenaded the attendees during the event. Fred Schneider made the best man speech."