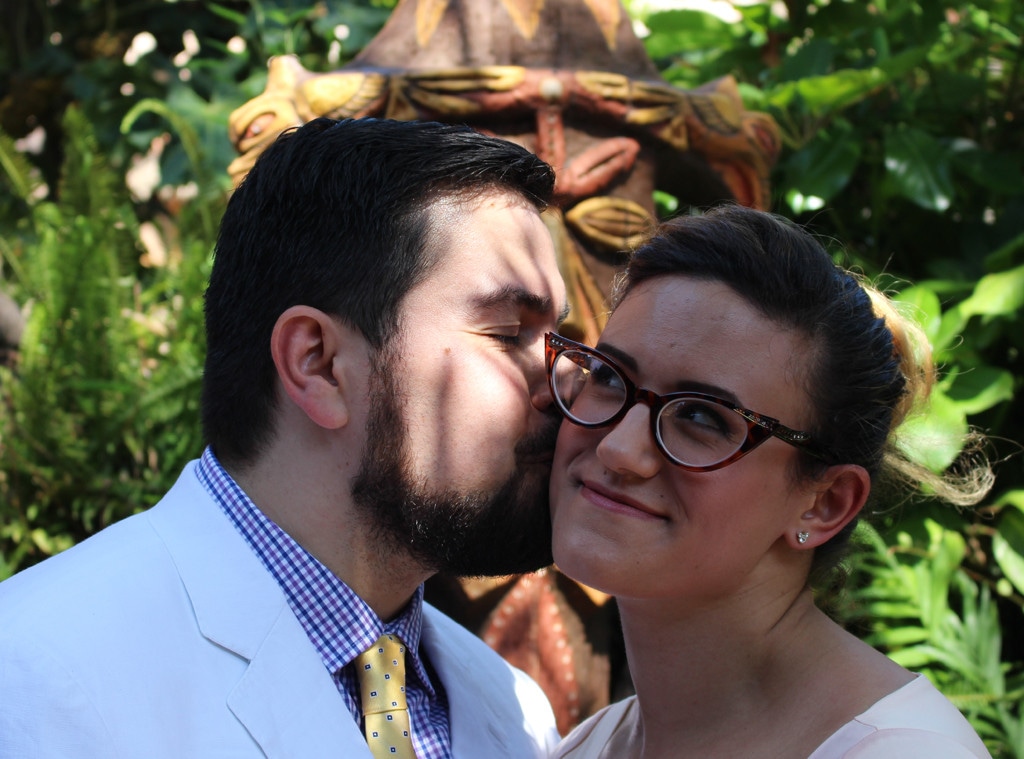 Courtesy Carlos Fundora
Why not get married at the "Happiest Place on Earth" on what's supposed to be the happiest day of your life?!
Well, for starters, it can be very costly. If you want to get married at Disneyland and have more than 18 guests, the pricing for a wedding begins at $12,000. So, one Oakland, Calif., couple took matters into their own hands and decided to sneak a wedding!
Bride Emily Rose and groom Lex Emmanuel had a tough task ahead of them if they wanted to stay under the radar, considering they had 25 people in their party, including seven children. It also happened to be one of the park's busiest weekends, so the challenges were stacked high for the group.
With a plan in place, they set their sights on the Enchanted Tiki Room for the nuptials.
Their best man, Adam Brinklow, wrote about the account for San Francisco Magazine, recalling how it all came together. They chose the Tiki Room because it was big enough to accommodate their group, and time was on their side!
"There was a four-minute window between the audience's entry and the show's beginning," Brinklow wrote. The "bride wore a cream-colored dress, the groom a Don Johnson-style white bespoke suit; just classy enough for the occasion, but not quite enough to attract suspicion."
Miami Vice. Nice.
The vows were concise for the purpose of time (and not getting caught): "Do you take this awesome man? Do you take this awesome lady?" The happy couple then sealed their I-dos with a kiss.
Brinklow told E! News that, when it came to exchanging the rings, it was a stealthy hand-off. "There were supposed to be rings, but they actually weren't finished yet, so a necklace substituted. And rather than one of the kids [doing it], I carried it and was supposed to discreetly hand it off when the time came. Instead, I almost dropped the damn thing.
"Again, I assume this was for the sake of doing everything speedily and not drawing a lot of attention."
Even though the day was an uncharacteristically rainy one (for Southern California in the summer, that is), the best man said it didn't dampen their spirits. "We stayed until the park closed!" Brinklow told us, adding that the day was incredibly special.
"This couple loves Disneyland; they're there three or four times a year at least, and the bride in particular loves Disney movies," he said. "They'll visit again, very soon and very frequently and probably for the rest of their lives, so there will be plenty of opportunities to relive the memories."