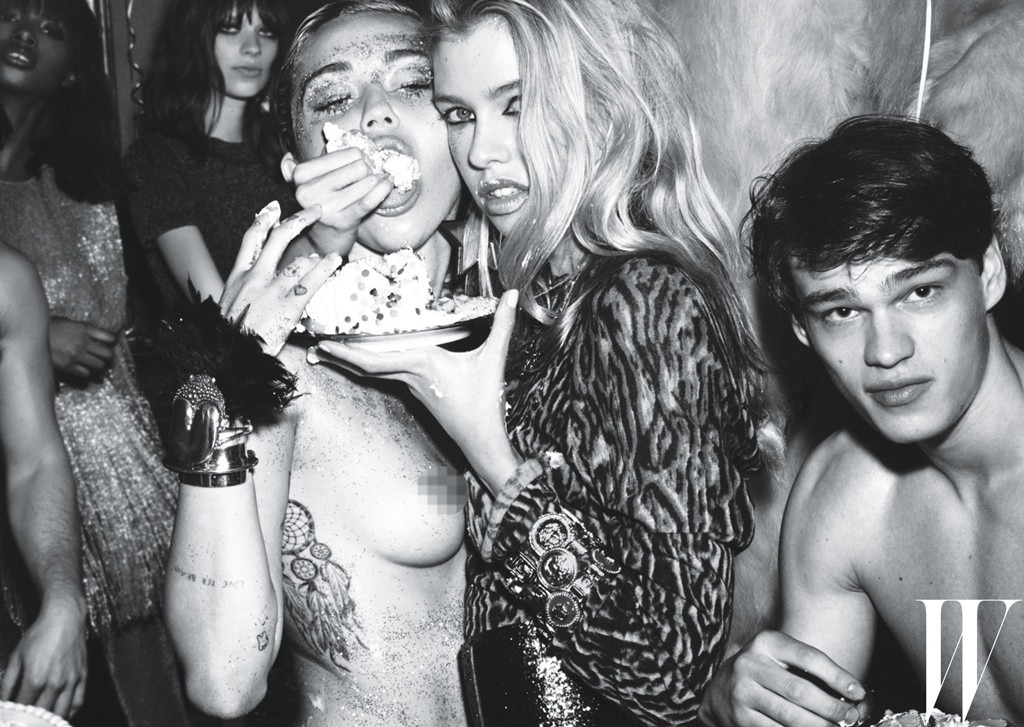 Mert Alas & Marcus Piggott for W.
If you've ever wondered what it looked like to party in the late '80s, here's your chance.
Miley Cyrus, Paris Hilton, Emily Ratajkowski, Stella Maxwell and many more VIPs got together for a W magazine's September issue to show off how to party like it's 1989. But with Miley involved, you know this isn't just an average soiree. In one NSFW photo, Miley and Stella, who W calls Miley's girlfriend, cozy up to one another while Stella feeds her cake. The "Wrecking Ball" singer is completely naked from the waist up, putting her glittered breasts on display.  
It seems that Miley ultimately decides to put on some bare-minimum clothing, as she poses provocatively in a leather bra-style top and sequined skirt. Still covered in glitter, the Hannah Montana alum grabs one of her boobs as she lies on the ground.
Mert Alas & Marcus Piggott for W.
The '80s come into full effect in one of Paris' photos. With voluminous hair and a deep side part, the hotel heiress is epitome of '80s glam. The sexual innuendo of the photo doesn't go unnoticed, either. Paris holds up two balloons in front of her own breasts, making for quite the inflated chest, if you will.
The photos, which are split into about half black-and-white, half color, take a close look at what A-list stars might do inside their wild parties. Whether or not they get this crazy remains to be seen, but W certainly paints a vivid picture in its September issue.
Mert Alas & Marcus Piggott for W.
In real life, however, it's safe to say that Miley actually spends some time taking it easy, as she posted a picture of herself practicing some yoga—taken by Stella, of course. "Life is about balance. #party #yoga #veggies #partyharder #moreyoga #moreveggies," the 22-year-old wrote.
Based on how she appears in these photos, it seems she's successfully managing her party lifestyle with her exercise—just take a look at her toned tummy!
Mert Alas & Marcus Piggott for W.
Watch:
Miley Cyrus' Message to Youngsters Having Sex