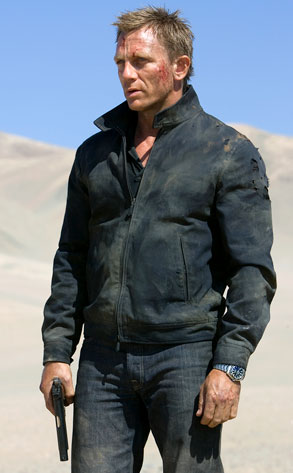 Sony Pictures
What's up with these Republicans? First, they get folks scared into thinking that not passing Prop 8 would turn their kids gay (what a joke), but now we've got one of the most reliably fornication-happy franchises in the world (James Bond) actually cleaning up its act?
Quelle not right!
Daniel Craig, who was so delicious in Casino Royale, schtupping babes right and left, rising out of the sea like a wet dildo, is now all scrapes, bruises and—horrors!—good behavior in Quantum of Solace, opening this weekend. Just saw it. Fun stuff, amazing action sequences, terrific dry Brit verbal volleys with Judi Dench, but sex? Nada.
And almost no skin scenes with Craig, which is like having a Hills episode with no hissy fits. Just should not be allowed. What, did the Bond producers think McCain was going to win and the country would be in a more circumspect, Holy Roller-kinda mood? Give me liberal sex scenes or give me death. This is, after all, Hollywood, not Washington.