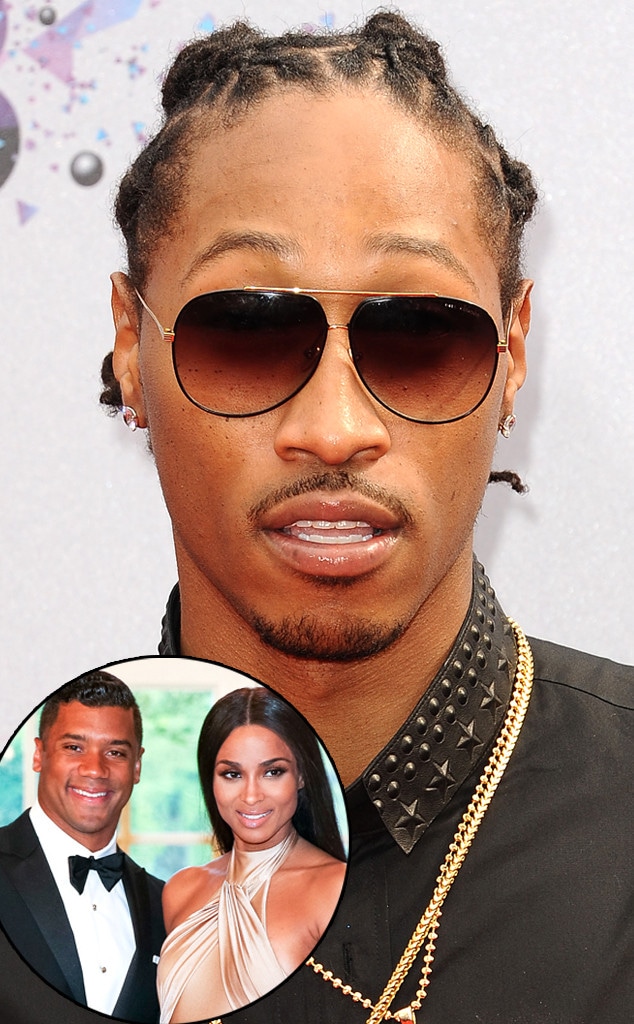 AP Photo/Andrew Harnik/Jason LaVeris/FilmMagic
Is Future targeting his ex's new man again?
The rapper took to Twitter on Saturday to share some cryptic messages that fans are speculating are geared towards Ciara's boyfriend, Russell Wilson. Why, you ask? Well, it's not like Future hasn't addressed the singer's beau before, and the timing was all too convenient.
It turns out the Seattle Seahawks quarterback was paid a friendly visit by his lady and her son, Future Zahir Wilburn, while he was conducting an NFL training camp over the weekend, and then the rapper ended up sending the following tweets that got people's minds wandering and guessing as to who he's talking about...
It's possible Future's initial tweet wasn't targed at Wilson at all, but after fans began responding about the NFL player, Future called him out...kinda (he didn't tag him, so we don't know it's real).
The "Commas" rapper has spoken out about Ciara's relationship before, making it very clear that he's not against his ex moving on, but when his son gets involved—it's a different story.
"I swear, man, I'm not thinking about her," Future said on The Breakfast Club 105.1 FM radio show recently. "I mean, I want her to be totally happy. Like, you gotta understand, you want a person to be happy."
"I'm not bitter," he added. "People think I'm bitter because she moved on. But I'm good. I'm taking care of me. I don't need him—she needs him."
He continued, "Of course I wouldn't want someone pushing my son. Like, that's the number one rule. Like, if I was a kid and my mom had a dude pushing me, I would've jumped out of the stroller and slapped the s--t out of...you never do that in our community. You don't even bring a man around your son."
"You know this dude for a few months and you're bringing him around your kid?" he said. "Who does that? Nobody does that."
Ciara caught wind of his comments, but she didn't let it get to her.
"Ciara was more annoyed with Future's comments than sad or upset," a source revealed to E! News exclusively at the time. "She is really strong now and so happy. She thinks Future needs to live his life and leave her happy relationship out of it."
And when it comes to her man, Wilson "is not concerned with Future's behavior."