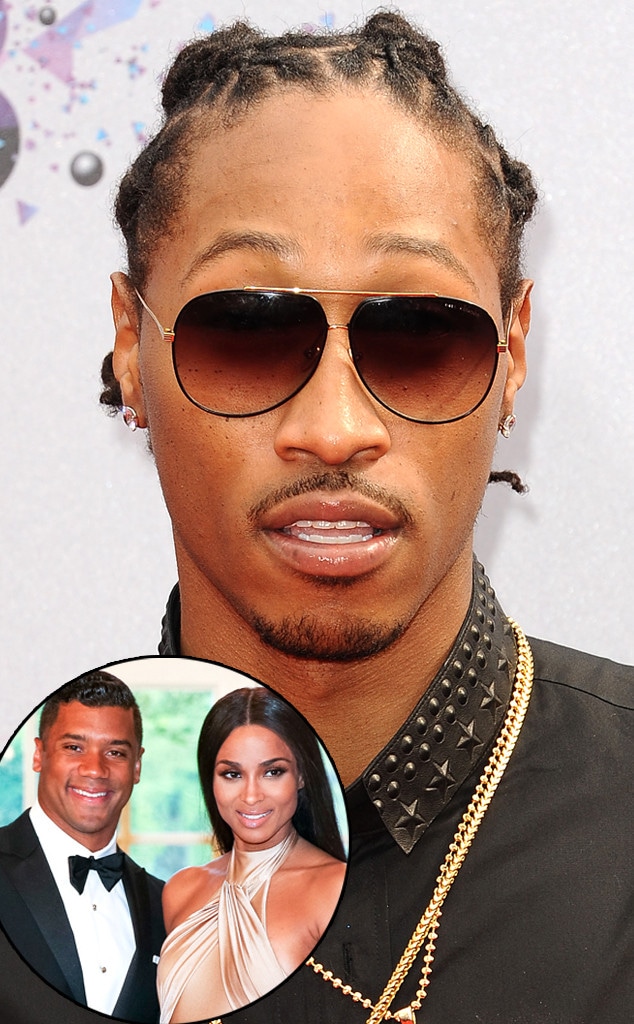 AP Photo/Andrew Harnik/Jason LaVeris/FilmMagic
Future says he is not, repeat, not bitter about his breakup with Ciara but there is one aspect of their split that enrages him: Seeing their toddler son being pushed in a stroller by her new boyfriend, NFL player Russell Wilson.
The child, Future Zahir Wilburn, was born in May 2014. Months later, Ciara, 29, and Future, 31, ended their relationship and engagement.
"I swear, man, I'm not thinking about her," Future said on The Breakfast Club 105.1 FM radio show on Thursday, a day before the release of his new album, Dirty Sprite 2. "I mean, I want her to be totally happy. Like, you gotta understand, you want a person to be happy."
"I'm not bitter," he added. "People think I'm bitter because she moved on. But I'm good. I'm taking care of me. I don't need him—she needs him."
Ciara, who plans to release her new music video "Dance Like We're Making Love" on Thursday, had begun to date Wilson, the Seattle Seahawks' 26-year-old quarterback, in April. Earlier this month, the football star, a devout Christian, made headlines when he revealed that he and the R&B star were abstaining from sex.
Several people taunted Future about his ex's new relationship on social media after their romance was first reported. He tweeted, "I wish I cared." In May, Wilson was photographed pushing Future and Ciara's son in a stroller as she walked beside them. People took to social media again to tease Future.
"Of course I wouldn't want someone pushing my son," he said on The Breakfast Club. "Like, that's the number one rule. Like, if I was a kid and my mom had a dude pushing me, I would've jumped out of the stroller and slapped the s--t out of...you never do that in our community. You don't even bring a man around your son."
"You know this dude for a few months and you're bringing him around your kid?" he continued. "Who does that? Nobody does that."
Ciara and Wilson have not responded to Future's remarks.
On Wednesday, the two attended the 2015 ESPYs together. Wilson posted a pic of the two on Instagram and called Ciara "The One." She posted, "Sweetest Thing I've Eva Known."
Watch:
Ciara Gushes Over Motherhood and Russell Wilson!