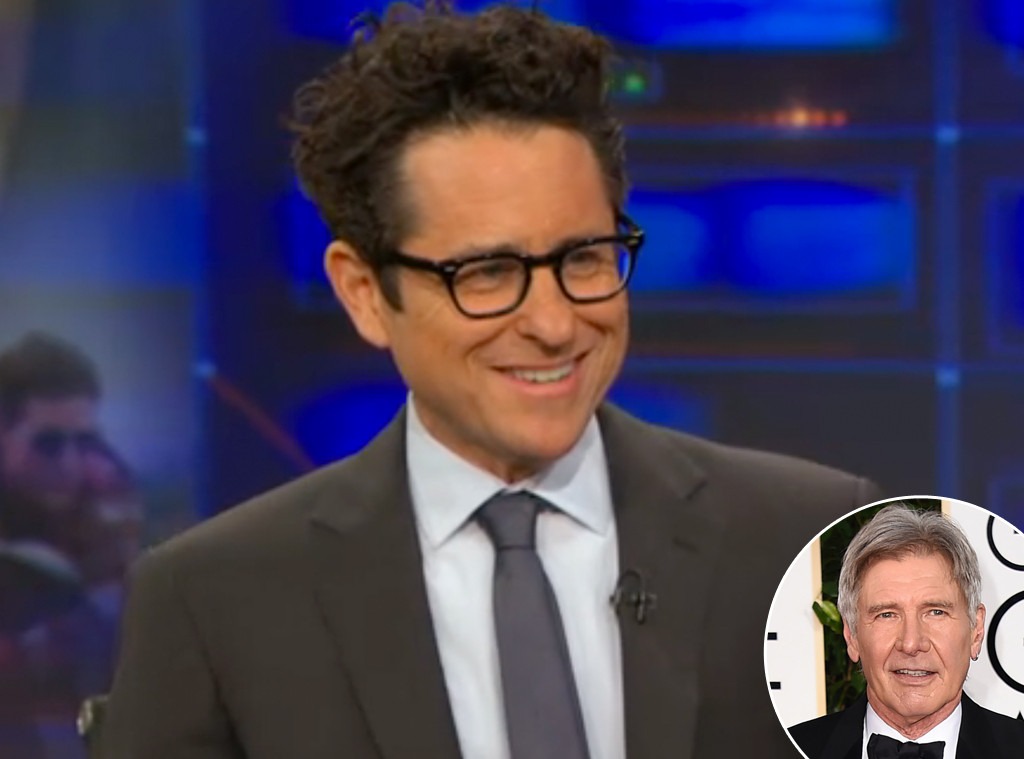 Getty Images; Comedy Central
Harrison Ford wasn't the only one who suffered an injury on the set of Star Wars: Episode VII—The Force Awakens.
Speaking on The Daily Show With Jon Stewart on Thursday, director J.J. Abrams, 49, revealed he had broken his back while trying to lift a door that had fallen and injured the actor. Last year, Ford, 72, had broken his leg on the set in an incident involving the Millennium Falcon, his character Han Solo's spacecraft, which delayed production on the movie.  This past March, the actor sustained moderate injuries after a small plane he was piloting crashed at a golf course.
"I gotta say, the guy is like a real-life superhero," Abrams told host Jon Stewart, 52. "We actually were filming a scene and there was an accident on set, there was a hydraulic door that went down. He was pushed down and his ankle goes 90 degrees. And he's down there and he's toughing it out. He's a super human being and he's literally lying there making jokes."
Abrams said he tried to help lift the fallen door and then felt a "pop" in his back.
"I'm like, 'Uh, that's weird,'" he said. "So I go to the doctor a couple days later and he goes, 'Oh, you have a broken back.'"
He said he had broken his fourth lumbar nerve in his lower back while trying to lift the door and had to wear a "really silly back brace," which he jokingly compared to Spanx, under his clothes. He said he didn't tell anyone about it.
Meanwhile, it appears Ford was a fireball of energy.
"Harrison Ford, from across the stage, sprints at me faster than I will ever run," Abrams said. "And he's like, 'Hey, J.J.!'"
Filming on Star Wars: Episode VII—The Force Awakens concluded last year. The movie is set for release in mid-December.
Abrams also recently co-produced Mission: Impossible—Rogue Nation, which hit theaters on Friday.
Watch:
Eyewitness Shares Details on Harrison Ford Plane Crash