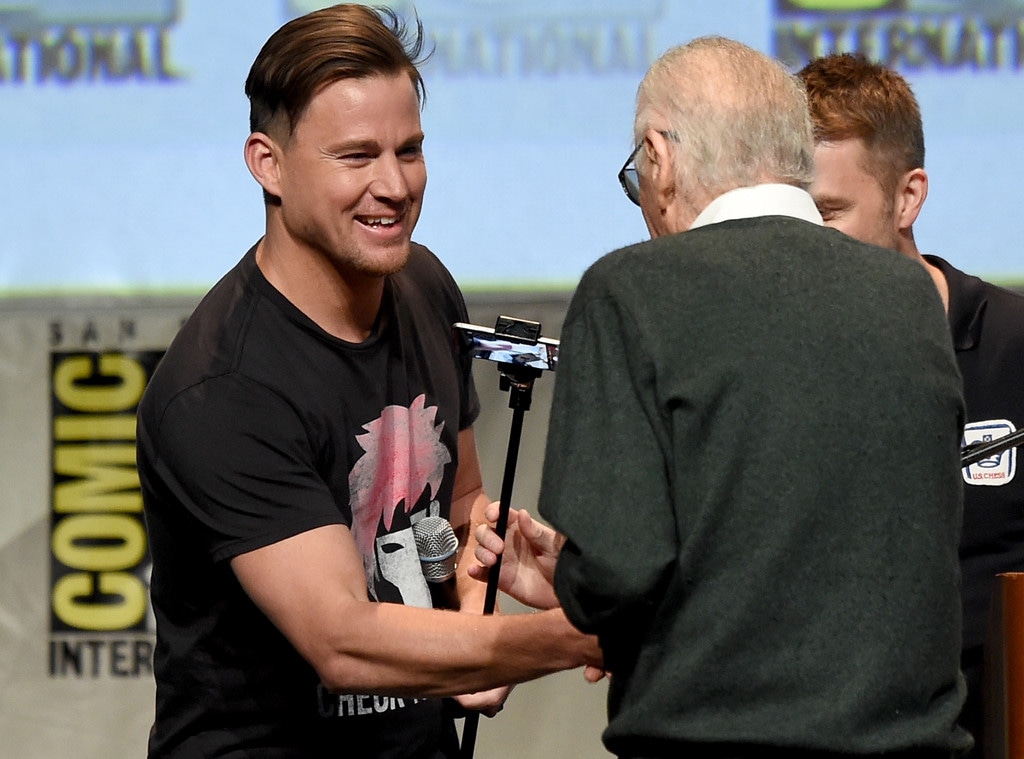 Kevin Winter/Getty Images
Dear Channing Tatum: You're perfect. Seriously.
It's no secret that the blue-eyed hunk has a drool-worthy bod, dance moves that make your imagination run wild and humor that constantly has you wishing you were Jenna Dewan-Tatum (hey, we're just being honest), but on top of all that, Channing is sweet and thoughtful and amazing.
Need proof? Fine. How about this—During Comic-Con in San Diego this weekend, the actor, who will be playing Gambit in an upcoming film, made a surprise appearance to a panel that included the legendary Stan Lee, former president and chairman of Marvel Comics.
When it came time for everyone to disperse and go about their business, Tatum was the only one to run to the aid of the 92-year-old to help him down the stairs.
As you can see above, Channing was hanging out before noticing that Lee was slowly beginning to head off the stage, and literally leaped over to him to make sure that he made it down safely. C'mon, this guy is just swoon-worthy to the max degree.
Before proving his perfection, Tatum gathered on stage with fellow onscreen superheroes—like Deadpool (Ryan Reynolds) and Wolverine (Hugh Jackman)—for one epic selfie, which he later tweeted for all of our enjoyment:
Back in January, Fox Studios announced the highly anticipated X-Men spinoff Gambit will hit theaters on Oct. 7, 2016, with Tatum taking on the lead role. The 34-year-old actor also excitedly shared the release date news on Twitter at the time, writing, "How do you say October 7, 2016 in Cajun?"
Back in May 2014, X-Men producer Lauren Shuler Donner confirmed that Tatum was cast to play Gambit, who is known for being an expert gambler with special powers over kinetic energy.