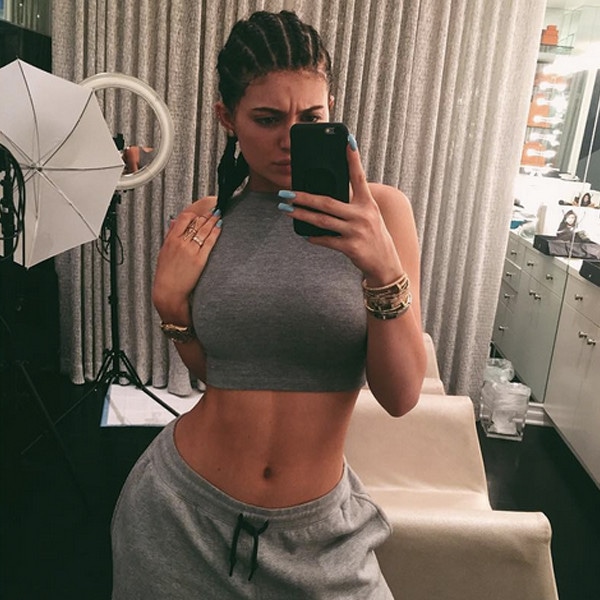 Instagram
Not everyone was a fan of Kylie Jenner's cornrows.
The 17-year-old Keeping Up With the Kardashians star shared on Instagram on Saturday a photo of herself sporting the hairstyle, generating more than 1.2 million likes and more than 109,000 comments. Oh, and a racially charged debate about cornrows.
One of her critics may have been Amandla Stenberg, the 16-year-old actress who played Rue in The Hunger Games. A screenshot of what appeared to be an Instagram exchange between the two is being circulated online. Reps for the stars had no immediate comments.
"When u appropriate black features and culture but fail to use ur position of power to help black Americans by directing attention towards ur wigs instead of police brutality or racism #whitegirlsdoitbetter," Stenberg was quoted as saying.
Kylie, who often changes her hair and recently sported blue hair extensions from her own line, reportedly replied, "Mad if I do...mad if I don't. Go hang w Jaden or something."
She is referring to mutual pal Jaden Smith, a friend of the Kardashian and Jenner family who took Amandla to her high school prom in May.
Stenberg had earlier this year recorded a video titled "Don't Cash Crop My Cornrows."
Kylie's post also generated micro-debates between users, who referenced both stars and posted comments such as:
"Ima make this clear, anyone NOT of African descent trying to pull off African culture is appropriating it. Point blank."
"You do realize there are a lot of 'white' people that wear weave & extensions right?"
"It DOES affect lives because it's offensive and it's not her culture..."
"Cultural appropriation at its finest. Bless Amandla for preaching."
Many people were unbothered by Kylie's look. Some liked it.
"I have no issue with her hairstyle," a user wrote. "I find this so funny that it's a big deal lol."
"You look amazing," another person said. "Love the braids. You look good in them!"