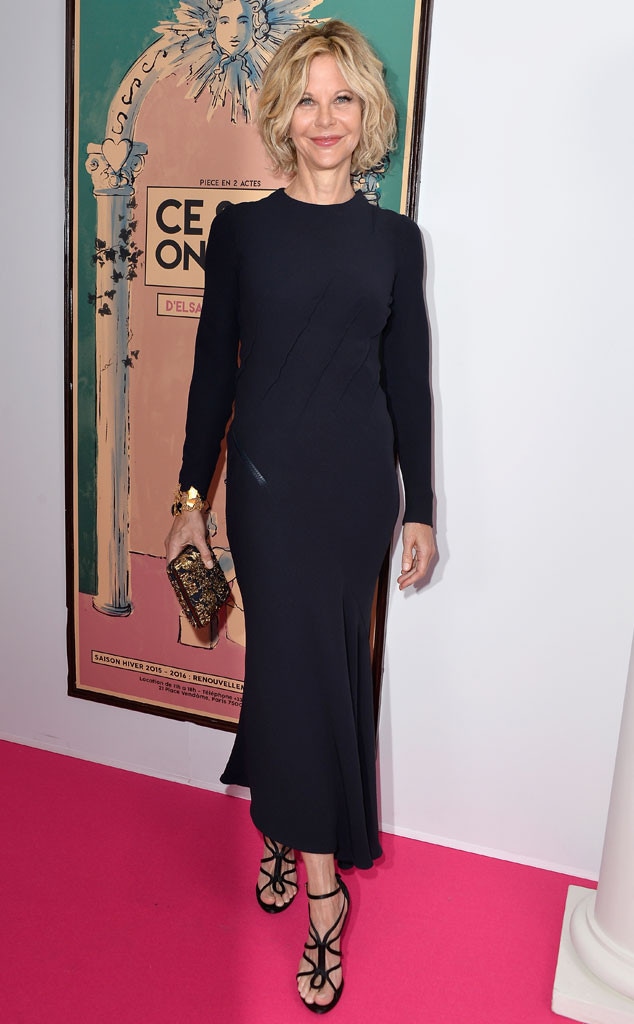 Pascal Le Segretain/Getty Images
No wonder John Mellencamp couldn't let Meg Ryan go!
Making her first official public appearance since the 41st Annual Chaplin Award Gala in April 2014, the French Kiss actress looked trés chic at Paris Fashion Week Monday. Ryan attended the Schiaparelli Haute Couture Fall/Winter 2015-16 show and was seated in the front row beside model/actress Farida Khelfa.
Ryan wore a form-fitting dress and understated makeup.
The actress, who hasn't appeared in a movie since 2009's Serious Moonlight, next stars in the movie Ithaca, which she also directed. Based on the 1943 novel The Human Comedy by William Saroyan, the film stars her son, Jack Quaid, plus Tom Hanks, Melanie Griffith, Christine Nelson and Sam Shepard.
Off camera, Ryan has been enjoying a romance with Mellencamp for several years. The couple broke up after three years last August, but Cougar never gave up hope. "She's an angel sent to me, and I'm very happy," the "Small Town" musician said on NBC's Today. "And, you know, nothing's over 'til it's over."
At issue: "There were disagreements over style of life and logistical problems which clouded their relationship," a source told People at the time. "But there is no doubt that he cares for her a great deal."
Bertrand Rindoff Petroff/Getty Images
The exes got back together in the fall. "They are a great couple," a Mellencamp source said. "All their friends were hoping it would work out."
After becoming a rom-com queen in the '90s and getting divorced from Dennis Quaid, Ryan retreated from Hollywood. Living in New York "makes you different," her friend, writer Delia Ephron, told People in 2013. "Los Angeles is just about movies. New York is about so much more than that, and so is Meg."
Ryan now "does her best not to be recognized," a source added.
Can anyone blame her?
In 2008, Ryan opened up about the demise of her marriage and her affair with Russell Crowe on the set of Proof of Life in 2000, telling InStyle it was painful but liberating to go from being seen as America's Sweetheart to the scarlet woman.
"So this is what it feels like to be the scarlet woman. Oh! I'm having that experience now! It was also incredibly liberating. Now I was utterly free. I didn't have to care about what people thought. I have gotten to do what I guess I secretly wanted to do," the Sleepless in Seattle star said. "Be totally under the radar and live my life."