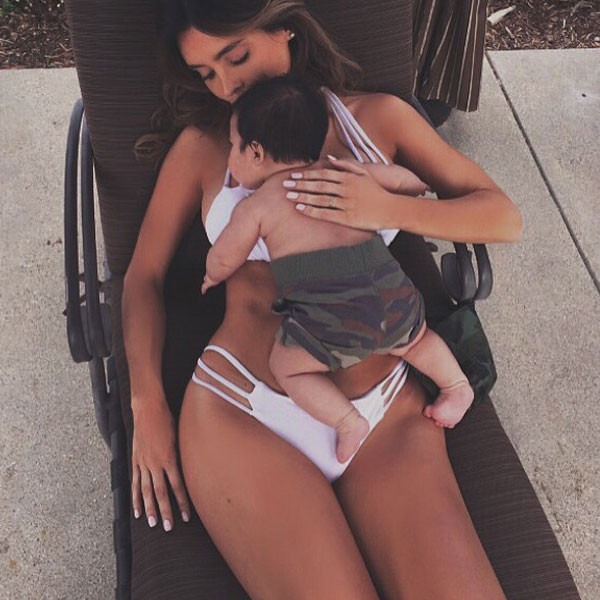 Instagram
UPDATE: Seemingly in response to the Photoshop commentary, Stage added this caption to the photo of her cuddling baby James: "When you're sharing a pic of a relaxing pool day with your son and people are concerned with your thigh shadow/pudge/skin."
____________________________________
Model Sarah Stage is once again getting flack for flaunting her sensational post-baby body on Instagram.
This time, the mother to two-month-old James is being accused of Photoshopping her bikini selfies with her little one.
Late last night, the Aussie posted a shot of her lounging in the sun with her son dressed in a barely there white string bikini and wrote, "I can't believe he's already 16 lbs!"
Fans (and foes) immediately rushed to comment on the mother-son photo and several speculated that Stage had edited her right hip and thigh area to make it appear more slender. (As if she needed that, right?)
Many are pointing out that James' right foot appears to be in an odd position, and that her leg shows a raised bump that seems slightly out of place. But who knows, could be Photoshop work or could be some weird shading issues! We'll let you decide for yourself.
"I so supported your page thinking you were a great motivation for fitness…then I saw this photoshopped picture! Can we please stop worshipping women who photoshop themselves and represent unrealistic standards," one Instagram user wrote before adding, "Unless of course you do have a tumor in your leg then I hope for your speedy recovery!"
And while Stage has yet to comment on the latest allegations made against her sexy pics, she's spoken out about the haters in the past.
When she was 8 months pregnant and had gained 20 pounds, she opened up in an interview with Good Morning America and addressed the growing concerns over her baby bump.
"As long as the baby is healthy, I don't think anything else matters...That should be the most important thing."
(Originally published June 29, 2015, at 11:46 a.m. PT)