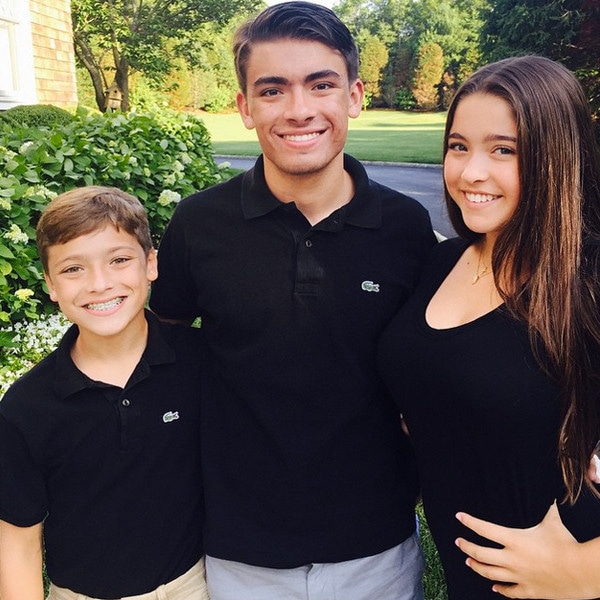 Instagram
What a good-looking bunch!
It shouldn't come as too much of a surprise that Kelly Ripa and Mark Consuelos' have some genetically-gifted children. After all, look at their parents!
The famous mama shared a somewhat rare photo of all three of the couple's kids on Instagram today, and it's instantly clear that these celebuspawns are a spitting image of their beautiful mom and dad.
Michael, 17, Lola, 14, and Joaquin, 12, all posed together in matching black outfits for mom's IG post, showing off their pearly-whites for what ultimately became one absolutely perfect family Kodak moment. "Black is the new black," Ripa cleverly captioned the photograph.
Ripa also paid tribute to her hunky hubby for Father's Day yesterday by posting an awesome throwback photo of Consuelos with two of their kids on the back.
"Thank you @instasuelos for being such an incredible dad. Then and now, our kids are so lucky! Happy Father's Day! I love you," she wrote.
The family also recently celebrated Lola's birthday, and being that she's the only girl, it's no wonder that she and Ripa have a special and adorable bond.
Back in April, Ripa appeared on the Late Show With David Letterman and did a hilarious "valley girl" impression of the teenager. "'You don't understand,'" she said, adding, "'My math teacher is just like so hard on me. I got a 90 percent, which is like a 100 percent.'"
"Her mouth never closes," she explained. "It's just a series of tongue maneuvers."
Ah, parenthood.