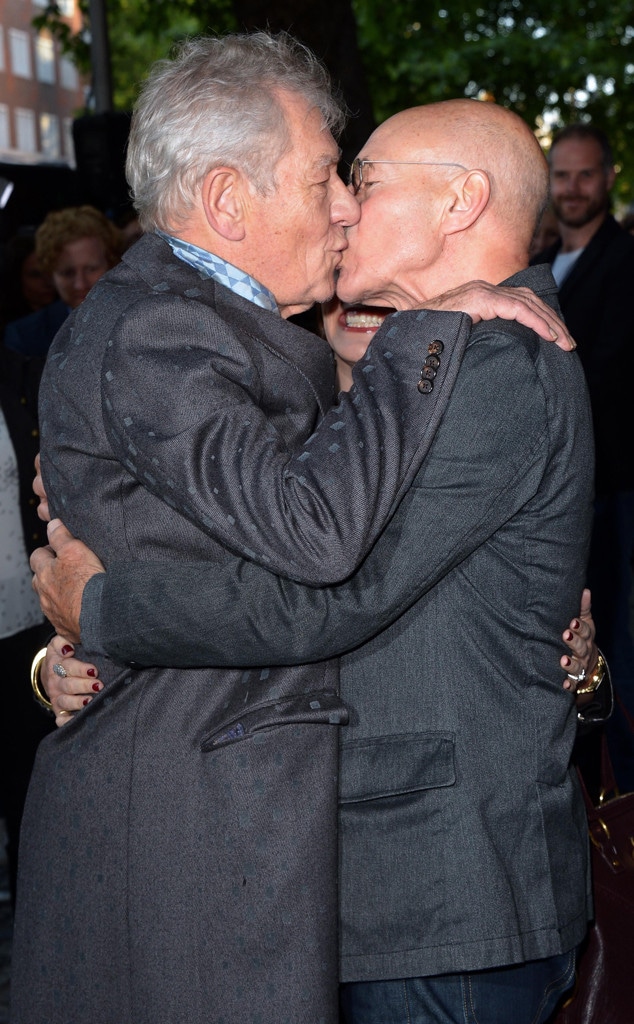 David M. Benett/WireImage
The bromance is strong between Sir Patrick Stewart and Sir Ian McKellen! PDA alert!
The X-Men movies' original Professor X and Magneto shared a kiss on the lips at the premiere of the movie Mr. Holmes in London on Wednesday, right in front (like, right in front) of Stewart's wife, Sunny Ozell. Judging from her big smile and the fact that she hugged them both as they smooched, the 36-year-old musician didn't seem to mind in the slightest.
Stewart, 74, and McKellen, 76, are best buds—McKellen even officiated the actor's wedding to Ozell in 2013.
Dave J Hogan/Getty Images
Stewart and Ozell had attended the premiere to support McKellen, who plays Sherlock Holmes in Mr. Holmes. The event took place at the ODEON Kensington cinema in London and featured a set made to look like the famous fictional detective's Baker Street residence, complete with a long carpet resembling a cobblestone road.
The movie also stars Laura Linney, 51, and is set for release in the U.K. on June 19 and will hit theaters in the United States on July 17.