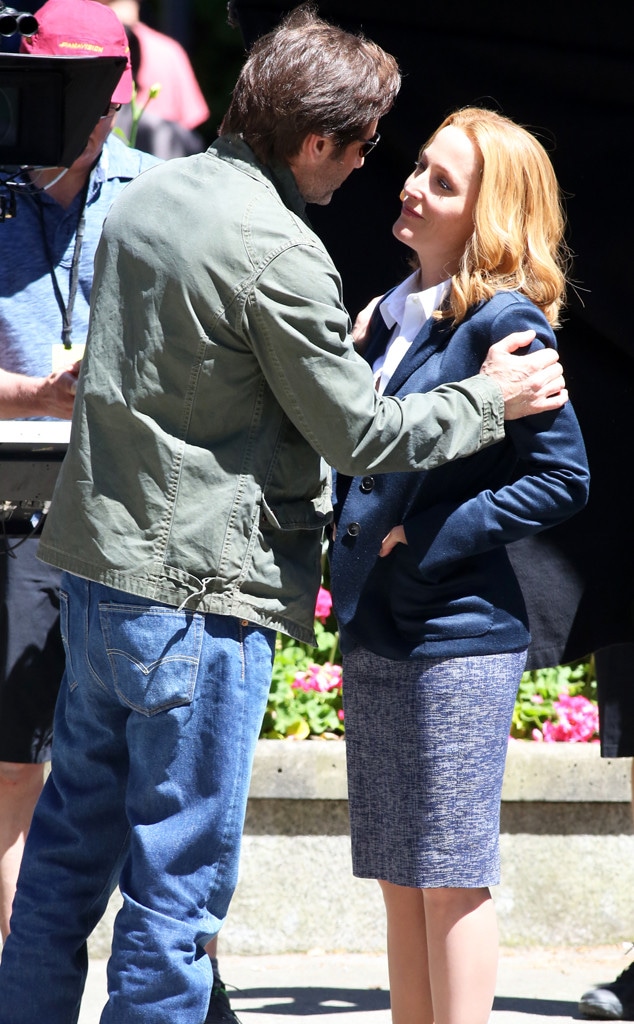 CYVR/AKM-GSI
If you thought the pictures The X-Files stars Gillian Anderson and David Duchovny were sharing on Twitter were giving you serious fanboy and fangirl feelings, well, you better sit down because the first photos of Mulder and Scully back in action on the streets of Vancouver have hit the web. Special bonus? The Soup host Joel McHale!
McHale, who also stars in Community, has joined the cast as Tad O'Malley, a conservative Internet news network host. He comes an unlikely ally to Mulder. But back to the more important topic: these photos.
UPDATE: The X-Files' official Twitter and Facebook accounts shared the above photo and we are beside ourselves, again. Mulder. Scully. Duchovny. Anderson. Together again for a new season of episodes. Yes, yes, yes, yes, yessssss.
EARLIER: Is Mulder still on the outs from the FBI? He looks a little…incognito. Meanwhile Anderson has traded in Scully's trademark pantsuits for a smart blazer and pencil skirt. And that hair she teased? She's full on strawberry blonde now, but not as fiery as she's been in the past because, well, it's 2015.
The six episode 10th season—does it count as the 10th season?—kicks off  this January, 13 years after the show ended.
"I think of it as a 13-year commercial break," Chris Carter, creator and executive producer, said in a statement when the new series was announced. "The good news is the world has only gotten that much stranger, a perfect time to tell these six stories."
Details about the new six episodes are being kept under wraps, but Anderson did drop some scoop to us at the Fox Upfronts. "Apparently, we had a child, which was conceived in the episode I wrote and directed, so I shouldn't be too shocked, but I kind of forgot about it for a while and had to be reminded...William is like 14 now, so I'm sure he'll show up at some point," she said. "That's about all I know."
Originally published on Tuesday, June 9, 2015, 7:14 p.m. PT.