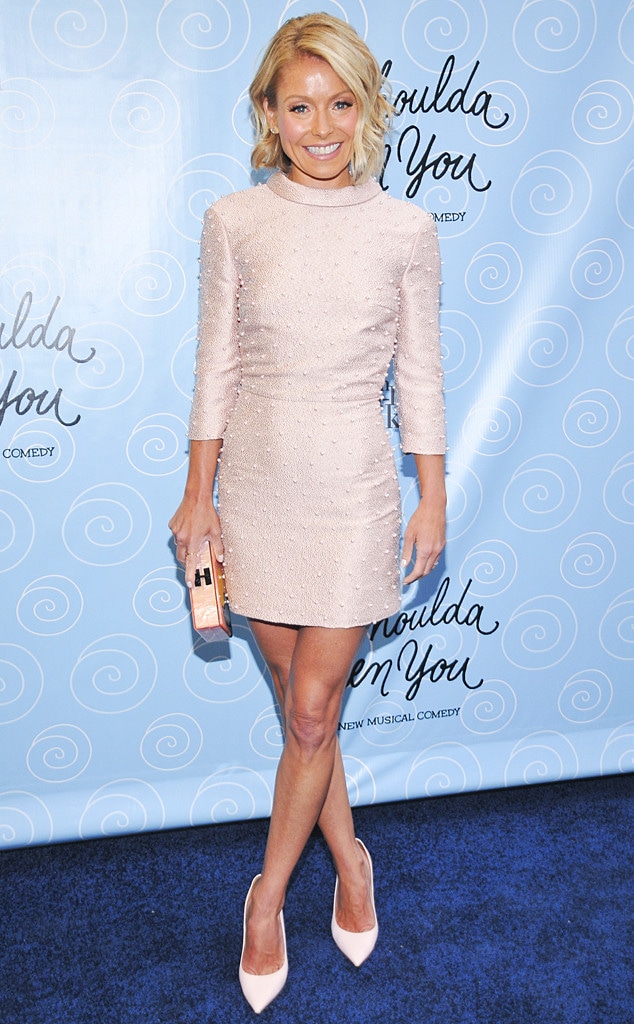 Jenny Anderson/WireImage
Ladies, rejoice: There is a cleanse out there that doesn't involve a liquid-only, calorie deprivation-based routine. Don't believe us? Just ask Kelly Ripa, who's already a major fan.
The ever-so-svelte actress routinely follows the cheekily named AlkaMind "Get Off Your Acid" cleanse, which involves seven days of eating alkaline-rich foods. E! News caught up with Ripa's chiropractor and nutritionist Dr. Daryl Gioffre, creator of this regime, to get the scoop on the AlkaMind method.
"It was always my goal to create this 7-day cleanse that wasn't going to do all those things that people think about cleanses," Dr. Gioffre said. "Everyone thinks you're going to be starving all the week. And you have to drink this green, nasty bug juice, or you're going to be in the bathroom all week, and you're going to be miserable."
But not on this cleanse! Dr. Gioffre's routine involves avoiding acidic foods (processed, high sugar items that cause weight gain, inflammation, skin issues and digestive system irritation) and subbing in pro-alkaline foods like kale, spinach, nuts, seeds, avocados and whole grains like quinoa. The 7-day plan also involves going off all meat and dairy products. Gioffre strongly encourages keeping hydrated with water and upping the chlorophyll count in your diet (think dark leafy greens) as keys to success on the alkaline cleanse.
"Your body needs to have your blood pH tightly regulated. The scale goes from 0 to 14 (0 being acidic, 14 pure alkaline). Your body needs to be slightly alkaline at 7.365. Easy way to remember is seven days a week, 365 days a year," he said. (So how do you test your body's pH? You can be like supermodel Elle MacPherson, who reportedly totes a pH balance urine test with her at all times.)
Gioffre's clients have lost anywhere from five to 14 pounds on the 7-day plan, which is pretty impressive. The cleanse is so successful for some that they don't stop at the seven-day mark.
"Some people even eat more," Dr. Gioffre quipped. "You're eating nutrient-dense, alkaline food that is very cleansing for the body. I think that's why the success rate on the cleanse is so high, people are enjoying the process."
And here are three recipes to kick off your "Get Off Your Acid" cleanse!
Mint Morning Blast Smoothie (serves 2)
Ingredients:
1 big handful spinach
1 Banana (ideally frozen)
5 strawberries (ideally frozen)
10-12 mint leaves
1 tbsp. raw almond butter
1 cup coconut milk (or almond milk)
Blend high in blender, enjoy! Refrigerate leftovers to make firm. Note: The metabolization of any of the natural sugars in the banana and strawberries will be slowed down and neutralized by the healthy fats in the almond butter and coconut milk to prevent any insulin spikes or acidity.
Quinoa Burrito Bowl (serves 2)
Ingredients:
1 cup quinoa (or brown rice)
2 15oz cans of black beans (organic, rinse thoroughly)
4 green onions, sliced
2 limes, juiced
4 garlic cloves, minced
1 heaping teaspoon cumin
2 avocados, sliced
Small handful of cilantro, chopped
Cook quinoa by combining 2 cups of water with 1 cup of quinoa in a pot over high heat. When the water comes to a boil, cover the pot and turn heat down to the lowest setting for 30 minutes. While quinoa is cooking, open the cans of beans, rinse thoroughly, and pour into a small saucepan over low heat. Stir in the onions, lime juice, garlic, and cumin and let flavors combine for 10-15 minutes. When quinoa is done cooking, portion into individual serving bowls. Top with beans, avocado, and cilantro.
Avocado Chocolate Mousse (serves 2)
Ingredients:
1 ½ haas avocado
2/3 cup coconut water (ideally raw)
1 tbsp. Vanilla
2 tbsp. raw cacao
3-5 Dates
1 ½ tsp. Sea Salt (Celtic Sea Salt or Himalayan)
Blend high in blender, enjoy! Refrigerate leftovers (if there are any) to keep firm.