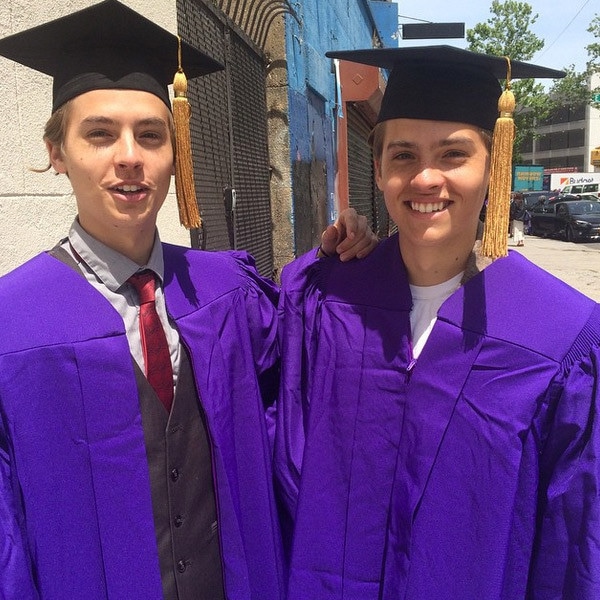 Instagram
"Yippee" for Dylan and Cole Sprouse!
These former Disney darlings made Mickey Mouse proud Wednesday when they both gradated from New York University's Gallatin School of Individualized Study with honors. That's right, the Suite Life of Zack and Cody stars, now 22, are finished with college. Dylan graduated with a focus in video game design while Cole completed his studies as an archaeology major.
Cole tweeted several pictures from the guys' NYU graduation ceremony held at New York's Yankee Stadium. The blond-haired, blue-eyed brothers have grown up to be quite handsome, that's for sure, and underneath those purple caps and gowns they're still very much recognizable as the boys who grew up at the Tipton Hotel!
Dylan Instagrammed a pic of himself and Cole in their graduation gear (note the gold tassels on their caps—only honors' students get those), writing, "Smarter better faster stronger. Finished NYU now on to the next."
The twins, whose big break came in 1999 with Big Daddy, put their acting careers on hold back in 2011 when they first enrolled in school. They adjusted to college life quite well, it seemed, and in 2013, Dylan even got a job at a local restaurant.
Of course, the rumor mill went wild that the former child star had squandered his Suite Life savings, but Dylan cleared things up on his Tumblr page, reassuring fans he "did not take this job 'because I lost all my money.'"
So why bother working for a few extra bucks? Dylan joked he "this job as a way to primarily feed my over bountiful video game addiction."
That wasn't the only reason behind getting a new gig, though... "I also took this as a way to try a new experience, working somewhat below the means I'm used to, as well as a way to socialize and get out of the house," he added. "I feel most comfortable when I'm working and doing something, to criticize someone of that is pretty odd."
"I will potentially return to acting someday," he continued, "but in no way do I think any experience is a step down for me, but rather a new step in another direction."
SERIOUSLY, these boys turned out so well! Dylan and Cole, congratulations—and Adam Sandler, get their graduation gifts in the mail stat!