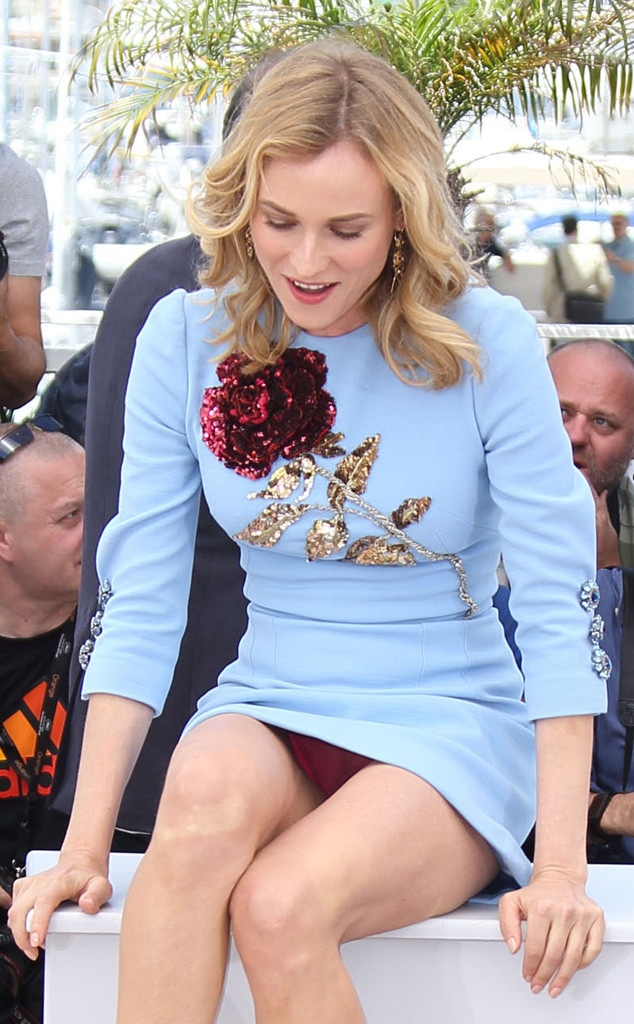 Mike Marsland/WireImage
With so much pressure to look their best all of the time, stars bound to experience some slip ups on the red carpet. Unfortunately, Diane Kruger was the latest victim of a wardrobe malfunction at the 2015 Cannes Film Festival.
While appearing at photocall for Disorder Saturday, Kruger stunned in a mini, pale-blue dress that was embellished with a large sequined rose on the front. But the dress might have been a tad too short because when she tried hopping off the podium that she was sitting on, she flashed her red undies! (We're assuming she was trying to match the rose LOL).
She seemed to realize that sitting down wasn't the best idea to conceal her lady bits, but before she could adjust or remove herself, she gave photographers an accidental show. Although her co-star, Matthias Schoenaerts, couldn't help but laugh at first, he quickly helped her down to prevent and further inappropriate mishaps.
Wardrobe malfunction aside, Kruger looked gorgeous in her ensemble, which she matched with a simple pair of nude heels and natural-looking makeup. She wore her hair in tousled waves to complete the look. 
The dramatic dress didn't stop in the front. The backside featured oversized sparkly buttons, which made wearing jewelry unnecessary. Schoenaerts, on the other hand, went super casual for the photocall. Dressed in grey distressed jeans and a plaid button down, the Belgian actor played the role of a gentleman perfectly as he looked out for Kruger throughout the rest of the event.
It's a good thing he had his sneakers on so he was better prepared to save his co-star!
She isn't the only one who has had a fashion faux pas on the red carpet during this year's film festival. Sophie Marceau also flashed her nude-colored underwear while walking up a flight of stairs on the red carpet. If movies weren't the theme of the event, we'd have to assume undergarments were!
What do you think of Kruger's look? Sound off in the comments below!