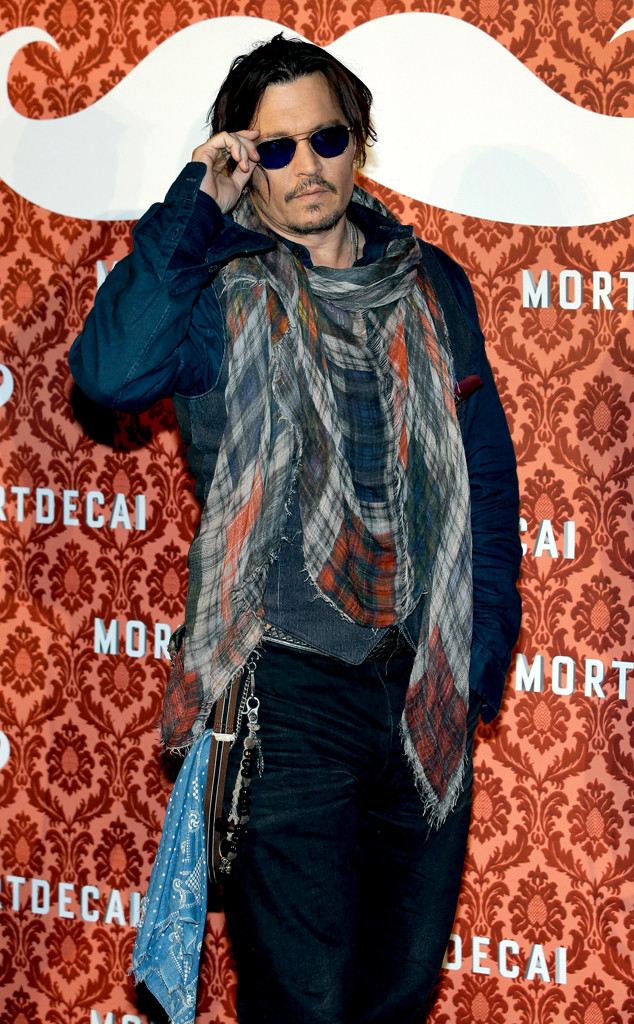 AP Photo/Michael Sohn
UPDATE: A source confirms that Johnny Depp's dogs are OK and will be returning to the U.S. tonight via private jet.
PETA Senior VP Lisa Lange tells E! News in a statement: "PETA is not at all surprised that Johnny and Amber, who clearly love their animals very much, have arranged to transport their dogs back to the United States safely. It sounds pretty heavy-handed to fine people for trying to include every member of their family in their travel plans."
____________________________________

Johnny Depp and Amber Heard's two Yorkshire terriers, Boo and Pistol, will have to return to the U.S. or be put down. The Pirates of the Caribbean: Dead Men Tell No Tales actor, 51, disobeyed Australia's animal import laws and brought his dogs into the country without permits or a period in quarantine. Australian quarantine authorities have ordered Depp to fly his dogs out of the country by Saturday.
Australia has strict quarantine regulations to prevent spreading diseases such as rabies. Bringing pets to the country involves applying for a permit, followed by a quarantine period on arrival of at least 10 days.
Agriculture Minister Barnaby Joyce accused Depp of smuggling the Yorkshire terriers aboard his private plane when he returned to Australia on Apr. 21 to resume filming of the fifth installment in Walt Disney Pictures' Pirates of the Caribbean franchise. "There is a process if you want to bring animals: you get the permits, they go into quarantine and then you can have them," Joyce explained during an interview with Australia's ABC radio Thursday. "But if we start letting movie stars—even though they've been the Sexiest Man Alive twice—to come into our nation [and break the laws], then why don't we just break the laws for everybody?"
Joyce added, "It's time that Pistol and Boo buggered off back to the United States."
"Just because he's Johnny Depp doesn't make him exempt from Australian laws."
"The way this works is if we are going to make an excuse for Johnny Depp because he's got a private jet and brought in his dogs then I suppose you have to start making exemptions and excuses for everybody. The reason you can walk through a park in Brisbane and not have in the back of your mind, 'What happens if a rabid dog comes out and bites me or bites my kid?' is because we've kept that disease out. I'll tell you how close it is: it's in Bali, it's just next door. So this is not fanciful stuff, and therefore we're very diligent about what comes into our nation," he said.
Depp's rep did not immediately respond to a request for comment.
Joyce's spokesman told The New York Post's Page Six that the dogs are in "home quarantine," but did not say where. Joyce said the Agriculture Department would be responsible for euthanizing the dogs if they don't leave Australia. "After that, I don't expect to be invited to the opening of Pirates of the Caribbean," he joked.
(Originally published May 14, 2015, at 4:36 a.m. PT)