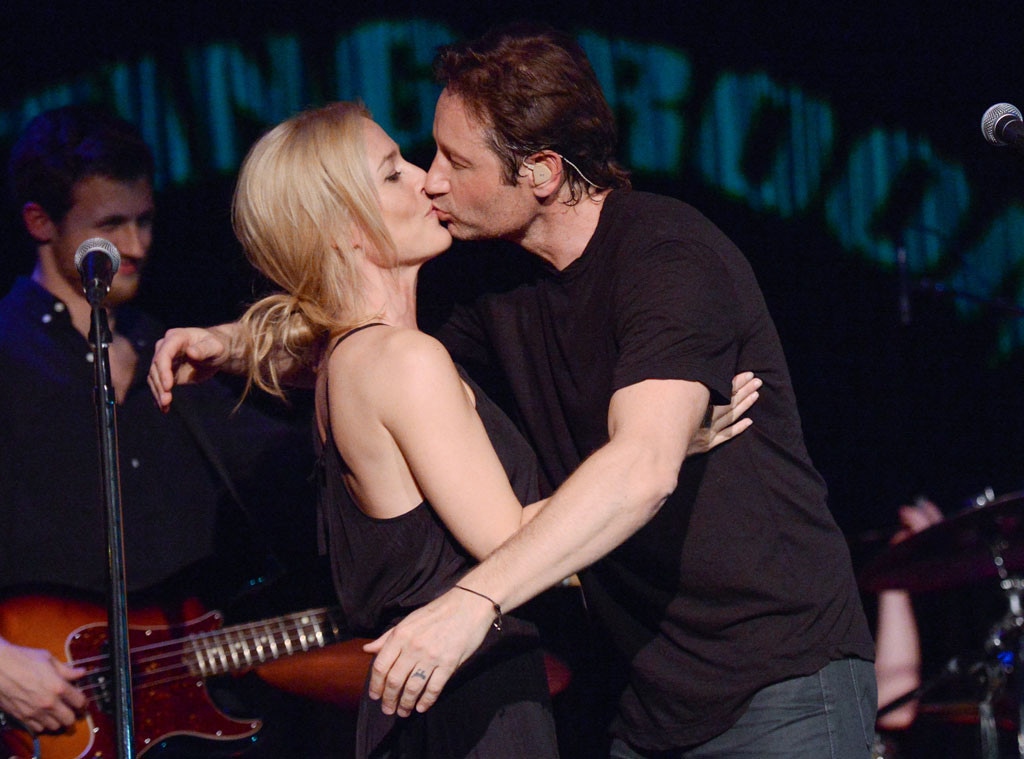 Evan Agostini/Invision/AP
X-Files fans, rejoice!
Mulder and Scully gave fans the moment that they could only dream of Tuesday when David Duchovny and Gillian Anderson kissed each other right on the mouth! Anderson surprised the audience when she walked out onstage to support her co-star at the debut of his album, Hell or Highwater, at The Cutting Room.
The 46-year-old actress appeared during the encore performance, per the Daily Mail, and asked, "Can we play some real music, please?"
Duchovny responded, "Is there anything you're in the mood for perhaps?"
She requested "Helpless," which was originally performed by Neil Young. But before walking away to stand on the side she planted a large one on Duchovny! As soon as the song ended, the pair locked lips once more. Although their onscreen relationship started out platonically, it later developed into a romantic one over the course of the show's nine seasons. The X-Files also received two films on the big screen.
Fox also announced in March that the hit sci-fi series would be revived, with Duchovny and Anderson at the helm of the six-episode return. The show will take place where the second film, The X-Files: I Want to Believe, left off.
"It'll be honest to the characters, and what happened to them since the series ended and the second movie," creator Chris Carter told The Daily Beast.
If you didn't happen to be a fan of the show while it aired, don't worry! Carter assured that people don't have to be entirely in-the-know of the show's backstory in order to watch the new episodes. "I like to think that anyone can enter this without much of a run-up. That said, you don't want to have to hit the hardcore fans over the head getting them up to speed," Carter said.
But when E! News caught up with Anderson at the Fox Upfront presentation, she didn't dish any secrets about the forthcoming series! "I actually don't know a thing," Anderson told us on the red carpet of Fox's 2015 Upfront. "I literally don't know—No, I'm serious for the first time ever…"