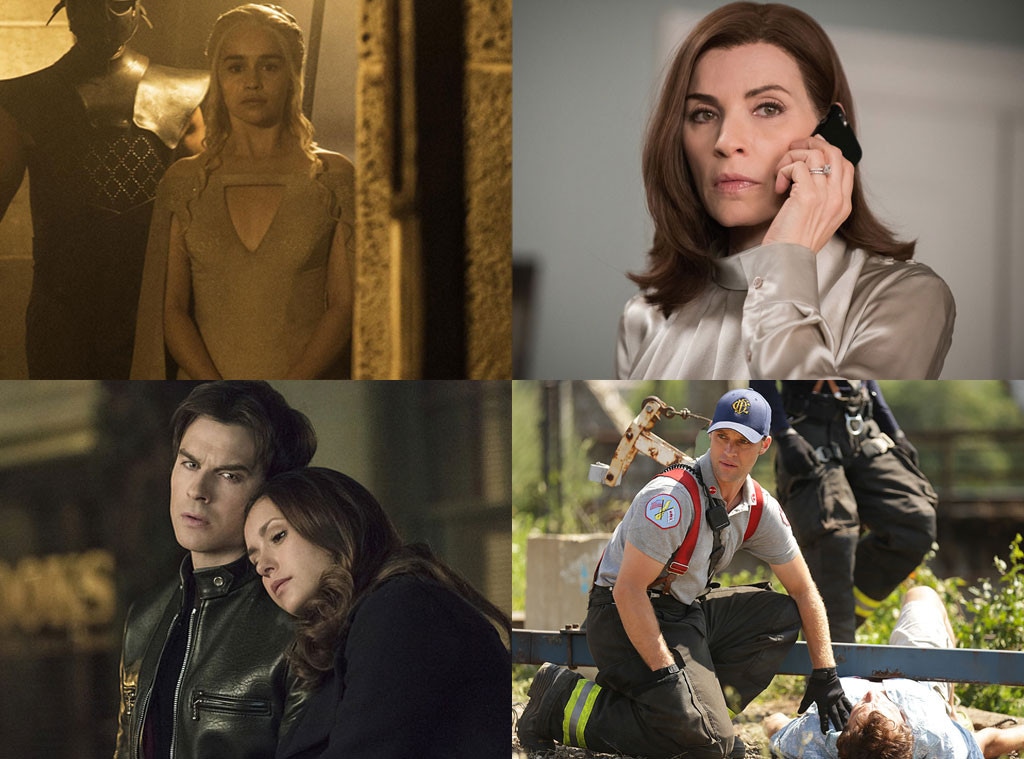 HBO, CBS, CW, NBC
Happy finale week—a k a the most exciting and straight-up TERRIFYING week of the year!
Um...yay?
Not only are we preparing for some hearbreaking goodbyes (Nina Dobrev—all the tears), but some of our favorite shows are also doing the unthinkable as they close out their current season. Prepare to have your jaw meet the floor. (You might want to pad it with some cushion.)
Read on for our latest round of exclusive TV scoop!
Helen Sloan/ courtesy HBO
Eric: I need Game of Thrones scoop!
If you thought this season was action-packed now, just you wait for the final four episodes! "I don't want to ruin the story but yes, there's a moment that I absolutely can't wait for fans to see," Eugene Simon, who plays Faith Militant member Lancel Lannister, says. "Let's put it this way: justice will be done. I'm excited to see justice be done. This really is the best season yet." No kidding!
Danielle: Got anything on Arrow?
Oliver and Nyssa are most certainly, definitely married...and Team Arrow is not going to be happy about it. In fact, executive producer Marc Guggenheim tells us that Felicity is going to have "a few choice words to say about that." Yeah, Felicity, you tell him!
Fraser: I love me some Brooklyn Nine-Nine! Any scoop on it?
Andy Samberg, Terry Crews and Andre Braugher all told me the same thing on the Fox carpet yesteday: "Someone is leaving." GULP! No likey the sound of that one! Also there is "movement" on the Jake/Amy front, according to Andy. 'Bout. Damn. Time. 
Francesca: I want to ask but I don't want to really know...What happens in the next two episodes of Outlander?
So much. So much you will need counseling for. Just prepare to hate Black Jack Randall (Tobias Menzies) more than you have ever hated any fictional character ever. Also know this: There is a much-earned light at the end of the tunnel in the last 5 minutes of the finale.
Cate: Ummm, I've been hearing all sorts of things about The Blacklist finale and I don't know what to believe. What should I believe?!
Well, did you hear that next season will see the show go in a "surprising new direction"? That's what NBC's Bob Greenblatt told the audience at NBC's 2015 Upfronts. And you can "absolutely" expect a big cliffhanger, Mozhan Marno tells us. "I can tell you that a lot of allegiances will come into questions. What you think is right and what you think is wrong will absolutely be called into question. Each character will have a moment of having to choose and it's never a clear choice," she says. Shooooot.
Mia: Carrie Preston has a new show, does that mean she's done for on The Good Wife?
A Good Wife season without Elsbeth Tascioni? Don't bet on it! We caught up with Carrie at the NBC Upfronts where she was promoting her new comedy Crowded and of course the topic of conversation turned toward Elsbeth. Will she be back? "I mean, I wish. That's all I can say," she tells us. So did she work her magic like she did back on True Blood to get some TGW into there? "I did, yeah." PHEW!!!!
Emily: Please tell me you have some scoop on #TVD!
If you were as devastated as we were when Stefan burnt the letter Caroline's mom sent her before she died, then listen up! Executive producer Julie Plec is giving us real hope that we might not have heard the last about that letter. "When the writers pitched that to me, I was like, 'You guys are terrible! That's so mean!'" Plec says with a laugh. "We do have a pitch on the table for that letter next season. Hopefully this won't be the last we talk about that letter. Because I want to know what it said too! And by the way, I also want to know what the hell Jo's vows were, too! Maybe one day we'll know what she intended to say too."
Courtney: Got anything on #AgentsofSHIELD?
Skye's mother may have a gift for healing...but it comes at a terrible price. Perhaps the leader of the Inhumans isn't as peaceful and good as she seems...
Matt: Is anyone going to die on The Flash in the finale?
From the way Tom Cavanagh is talking, it sounds like we might need to prepare for the worst. "I don't want to say yes or no," Cavanagh says. "But the episode where I killed Cisco, that felt like a season finale in some ways. There was so much stuff we got to do in episode 15. So now we have to ramp it up. What's really great about our season finale is that it's very gratifying in the same way episode 15 was."
Lindsey: Please, please, please anything on Law & Order: SVU?
Since you asked so nicely! "This week's episode deals with a kid being kidnapped and both parents are under suspicion," Kelli Giddish spills. "It's a crazy story." And Mariska Hargitay's Sgt. Benson, who is in the process of adopting a kid, will be affected by the episode. "It kind of gets confusing, who's telling the truth, what is the truth," Peter Scanavino says. "It also hits personally for Danny's character who has children himself and Mariska's character whose in the process of adopting a child."
Jess: The Chicago Fire finale has me so nervous. Should it?
Yes, yes it should. "No one's ever really safe in Firehouse 51," Taylor Kinney teases. "There's been a lot of tension with the guys…everyone's kind of at odds right now. There's a big structure fire…We kind of have to band together, see if we can put our differences aside and go in and save people. And it's our own lives, a few of us get stuck inside this building…" And you can bet there's a cliffhanger!
Spoiler Chat is new every Tuesday at noon ET/9 am PT on E! Online. BOOKMARK THIS PAGE so you can always find it!
Follow Kristin Dos Santos on Twitter, Facebook and Instagram and send in your questions there! (I read every single one!)
—Additional reporting by Tierney Bricker, Chris Harnick and Sydney Bucksbaum