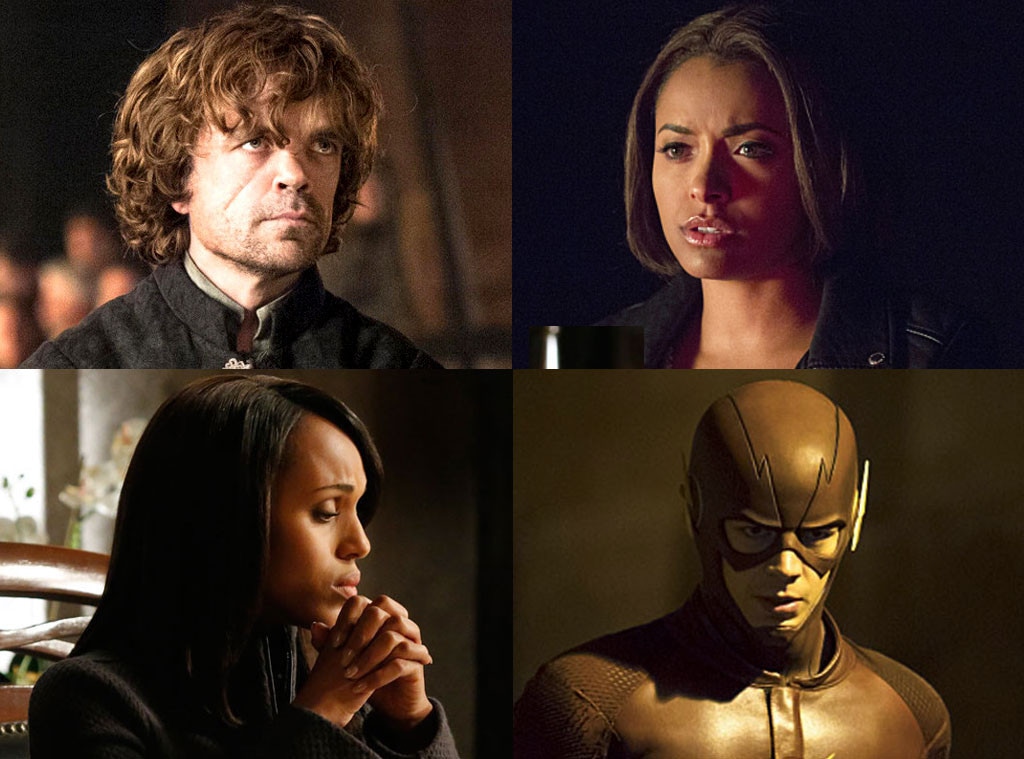 Season finales are upon us, which means we're allllllreadddy losing sleep! Here's our latest roundup of TV scoop, courtesy of your most excellent questions. (Except for one of you. You know who you are.)
Feliz Cinco de Mayo scoopo! (That might not be entirely proper Spanish.)
Ali M.: I'll take anything you've got on the OUAT finale!
Anything? How about what will be a trending topic during the epic two-hour event? "#Ogreslayer!" co-creators Adam Horowitz and Eddy Kitsis predict. And make sure to check back with us a little later in the week for some more finale scoop from Adam and Eddy!
Andy: If I didn't see Avengers: Age of Ultron yet, should I still watch Agents of S.H.I.E.L.D. this week?
If you don't want to be spoiled on exactly how the movie ends, then DVR tonight's episode of S.H.I.E.L.D. and save it for after you go see the movie! The events of Marvel's latest movie will greatly affect the team, just as how Coulson is the one who actually kickstarts the beginning of the movie, and is responsible for that big S.H.I.E.L.D. surprise during the big action scene in the movie too! #Itsallconnected indeed.
Maria: I need scoop on Bonnie and Kai. We haven't seen the last of their relationship, right?
When we asked Kat Graham about any future interactions between Bonnie and Kai on The Vampire Diaries, she was ominously cagey. "I don't know if I can tease anything about that," Graham says. "I had a great time working with Chris Wood, and I'm hoping that the fans will be happy with the rest of his scenes in the show. You're going to hate me because I really can't say anything more about that!" Our spidey sense are tingling: SOMETHING IS UP.
Shawn: I'm so scared to watch Scandal on Thursday night!
In true Scandal fashion, the finale is a "gamechanger," Katie Lowes says, adding, "I think people are going to be really blown away." And don't expect to be left hanging when it comes to the takedown of B613, with Lowes telling us, " You'll definitely get your answers: if it can be done, if it can't be done, what does that involve, do people die, do people live, how does that affect the president?" BRB, finding a paper bag to breathe into.
Kevin: Good Wife finale scoop. Give me scoop. Give it to me now!!!
While everybody is talking about a scene between two former BFFs, you should be preparing yourself for some potentially big changes. "I guess in terms of the cliffhanger in the sense that certainly it's setting up storylines for season even," Matt Czuchry tells us. "There are new ones that come in to set up season seven—if we come back for that." Color us intrigued…
Eric: Are we going to see any White Walkers this season on Game of Thrones?
Well, that is the only thing missing so far this season...and Kit Harrington promises the rest of season five won't go by without at least one scene with these scary, baby-stealing zombies beyond the wall. "It's safe to say that you might see more of them this season," Harrington says. "We might learn a bit more about that. But when and where, I don't know."  Sudden onset Actor Amnesia. It's a very real issue and growing by the day. Send help.
Jennifer: Homeland spoilers please!
Recast alert! The show is currently looking for a new little redhead to play Carrie and Brody's daughter, Frannie. Her age when we come back? 3! A k a a child who is far less easy to ignore. And a child when mommy is around or not. GULP. But that's not the only major role being cast: Prepare to see Carrie with a possible new love interest, a lawyer who is her intellectual equal. Oh, and Saul better watch out because Carrie will also be getting a new father figure.
Kelli: #AdoptNoah update, please! Us SVU Diehards are a nervous wreck.
Well, if everything goes according to plan, Benson could be adopting him within a month (as of "Perverted Justice"), but when does everything go according to plan? Also in that episode Orange Is the New Black star Samira Wiley will leave your heart hurting just a bit. Not everything is black and white.
Lisa: If the Reverse Flash hadn't interrupted Eddie's proposal, would Iris have said yes on The Flash? Please say no! #WestAllen
We see that hashtag! But unfortunately, it sounds like daddy knows best. "I think Joe was pretty accurate when he told Barry that Iris would say yes, they would get married, but it's not the guy that Iris truly wants," Candice Patton tells us. "I think she would have regretted it but she would stay with him because that's the kind of person she is. In the moment, she would have said yes."
Shannon: Hit me up with some New Girl scoop, would ya?
Stock up on tissues because you will cry. Good tears, we promise. Also, prepare now for some major movement on the Nick and Jess front. Could the show actually be going there again?! Well, Jess will be getting a new love interest in John Cho in season five, as the lawyer who happens to be working on the trial she's serving as a jury member on. 
Brittany: I'll take anything you've got on Finding Carter!
As if Carter and Taylor didn't have enough issues right now, things are going to become even more complicated for these twins. Carter and Max might be rekindling their old flame, in spite of Taylor and Max's relationship...yeah, it's going to get ugly before it can get better. 
Gregory: Outlander please!
Still finding it hard to speak about the last two episodes. Tobias Menzies deserves an Emmy, as does Sam Heughan, and beyond that, I physically canna make any words about it because...I'm suffering sympathy PTSD. This week, though, is a lovely and rather funny episode. We get to see Caitriona Balfe sing! 
Spoiler Chat is new every Tuesday at noon ET/9 am PT on E! Online. BOOKMARK THIS PAGE so you can always find it!
Follow Kristin Dos Santos on Twitter, Facebook and Instagram and send in your questions there! (I read every single one!)
—Additional reporting by Tierney Bricker, Chris Harnick and Sydney Bucksbaum