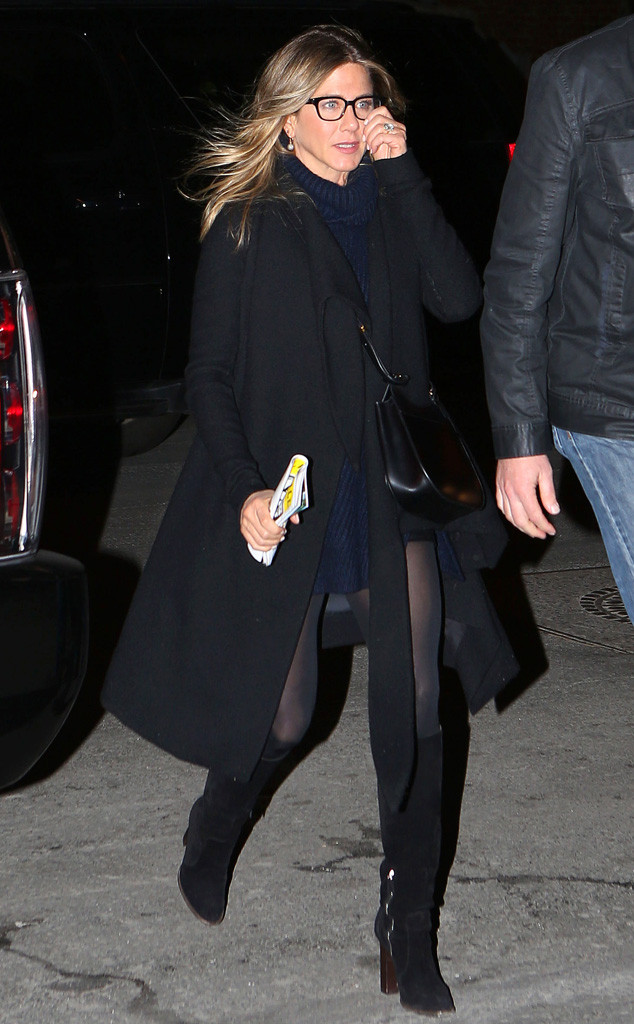 Splash News
Who's up for dessert?
Jennifer Aniston's leftovers are mouthwatering—and no, we're not talking about Justin Theroux or his hit HBO series, which just so happens to be called The Leftovers. On Tuesday, she joined Jason Bateman and Rosie Perez for dinner at Omar's La Ranita, a Mediterranean-American restaurant in New York City.
After seeing Perez perform in Larry David's Fish in the Dark, Aniston took the actress and Bateman to one of her favorite spots in the city. According to a source, the Cake star often orders "chicken for two," a pre-range juicy rotisserie chicken that is slow cooked for two hours and seasoned using Cajun spices.
The restaurant is the perfect place for stars, as it's a private members dining club.
Aniston, who also loves the trout, "is a regular of Omar's and comes quite often." In fact, a source tells E! News that the Friends star "always requests a large table and is always dining with different people." At the end Tuesday's dinner, Aniston was given an ice cream sandwich but was "unable to finish," per the source. Feeling generous, she decided to "share the desert with three guests sitting behind her."
Would sharing some Cake have been too on the nose?
Don't think Aniston was worried about maintaining her famously fit figure, though. As she told InStyle earlier this year, she recenlty started to eat pasta. "Blasphemy, I know. I never ate pasta. I've been allowing myself a lot more in the past few years. Which does make it harder to lose those last few pounds. But you have to live. And so what? You go up a size. What's the big deal?"
Aniston has been all over town in the last week, a she was also photographed on her way to see the Off-Broadway show Hamilton at Joe's Public Theater, dining at The Smile, and shopping in NYC's SoHo and Tribeca neighborhoods.
Theroux, meanwhile, was photographed arriving at LAX Airport Thursday.
—Reporting by Ari Forer