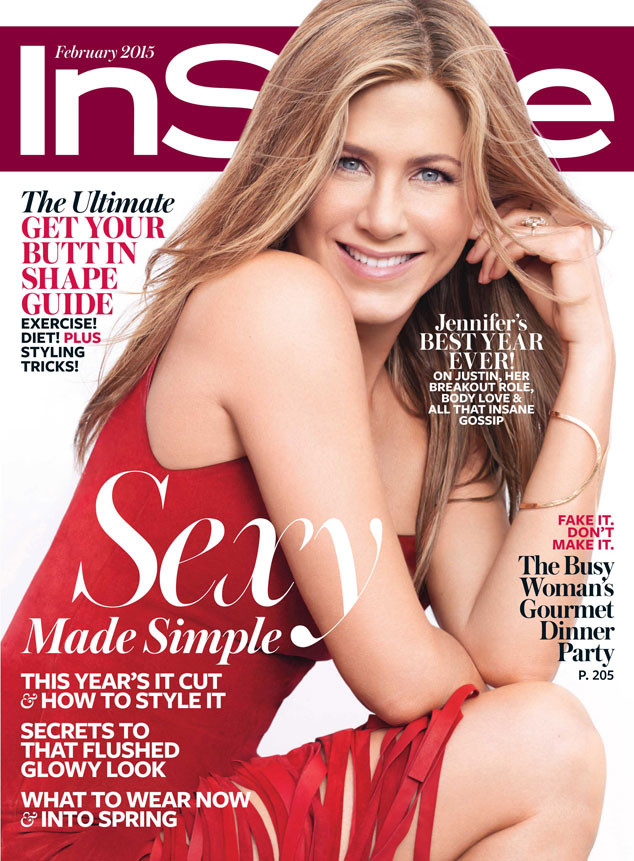 MICHELANGELO DI BATTISTA
Jennifer Aniston is taking control of her life—the life she reportedly leads, anyway.
The Cake actress has been a tabloid target since her marriage to Brad Pitt ended in 2005. "I realize they need to sell magazines, but it's really getting old," Aniston, 46, says in InStyle's February issue. "What kills me is when friends send me pictures they've taken at a newsstand. One magazine says, 'Desperate and alone,' and the other one says, 'She's eloped!' I mean, at least consult. Don't make yourself look like an idiot. I'm going to be 50 and they're still gonna be saying, 'She's pregnant!'" Though Aniston got engaged to Justin Theroux in August 2012, the tabloids haven't left the Golden Globe nominee alone.
If she could write her own tabloid headline, what would it read? "Oh, that's a tough one. That should be a Justin question. Wait a sec. How's this? 'When I'm pregnant and married, I will let you know.' Not a tabloid publication. Not Bulls--t Times or Crapass Bulls--t Times Weekly. They will not be telling you," Aniston vows. "And by the way, stop stealing my thunder! Let me have the fun of telling that story."
Speaking of Theroux, have he and Aniston set a wedding date?
"There's a big discussion in our house right now: Do you just do it and say screw it? Or do you try desperately to get away with [a secret ceremony] where you don't have any fun because you're hiding in a cave somewhere?" says the actress, whose lavish wedding to Pitt in 2000 cost a reported $1 million. "If we could do it without all the buzzing and the noise...It can be done. Where there's a will there's a way."