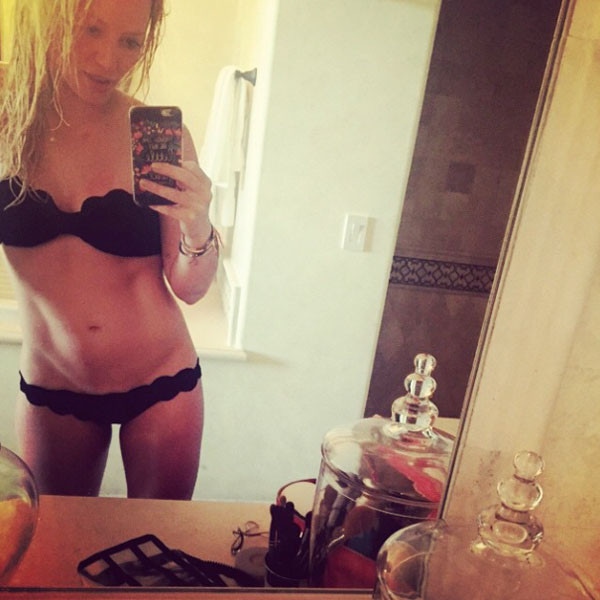 Instagram
Her TV Land series may be titled Younger, but Hilary Duff looks all grown up!
The former child star posed in a skimpy bikini and snapped a selfie for her Instagram followers Sunday. "Hey #moms #westillgotit #loveyourbod," said Duff, who is vacationing with her 23-month-old son Luca.
Duff's impromptu photo shoot is only slightly sexier than her Cosmopolitan spread, which appears in the magazine's April 2015 issue. Equally revealing was what the actress had to say about former professional hockey player Mike Comrie, whom she is in the process of divorcing, and Good Charlotte rocker Joel Madden, whom she dated from July 2004 to November 2006. Regarding her decision to break up with Comrie, the "So Yesterday" signer explained, "It wasn't working well enough to stay together, but there was still a lot of love involved. It was just a slow set-in of us not being the match that we used to be."
"I'm lucky for the person he is and I am and how we decided to handle this," she added.
Duff also revealed that she sees a therapist whenever she needs "a little tune-up."
What has she learned from therapy? "Being in touch with what feels good and what doesn't. Sometimes I'll go down an Instagram hole, and all of a sudden, I feel weird about my career or life. I'm like, 'Take a break.' I'm a huge Instagrammer. I love it, but probably once a week, I've gotta put that down," she said.
Luckily, Duff has always had a good grip on reality.
Ten years ago, Duff was seen as the good girl in comparison to wild starlets like Mischa Barton and Lindsay Lohan. But for the young actress, being a good role model meant making difficult decisions.
How did the Lizzie McGuire star stay on the straight and narrow when her peers' careers derailed? "At 19, I did a massive friend cleanse. That was really hard, to sit down with people and say, 'We can't be friends anymore.' They were like, 'That's f--ked up. You're a bitch.' But having a good reputation was important to me," she said. "That's not to say I didn't screw up and do little naughties here and there."
Duff began dating Madden when she was 16 and he was 25. After their breakup, she wooed Comrie, and at age 22, they got married. Madden, meanwhile, got Nicole Richie pregnant in 2007; they wed in 2010.
"I had a pretty serious relationship at a young age that I ended, and it wrecked me for a good year and a half," Duff said. "I didn't really enjoy being single." Asked about when she lost her virginity, she replied, "I had a 26-year-old boyfriend. So everyone can make their own assumptions about what I was doing."
Duff hasn't dated anyone seriously since she separated from Comrie in January 2014. But, as she sang in her 2014 single "All About You," "You could be my dirty secret." Just who could that "dirty secret" be? "I wrote that song for a reason! I've enjoyed myself," the pop singer told Cosmopolitan. "I think everyone should have something where you know it's not exactly what you're looking for but you just have a wicked good time. That was really freeing for me and a bit of an awakening. It's fun to have a secret."