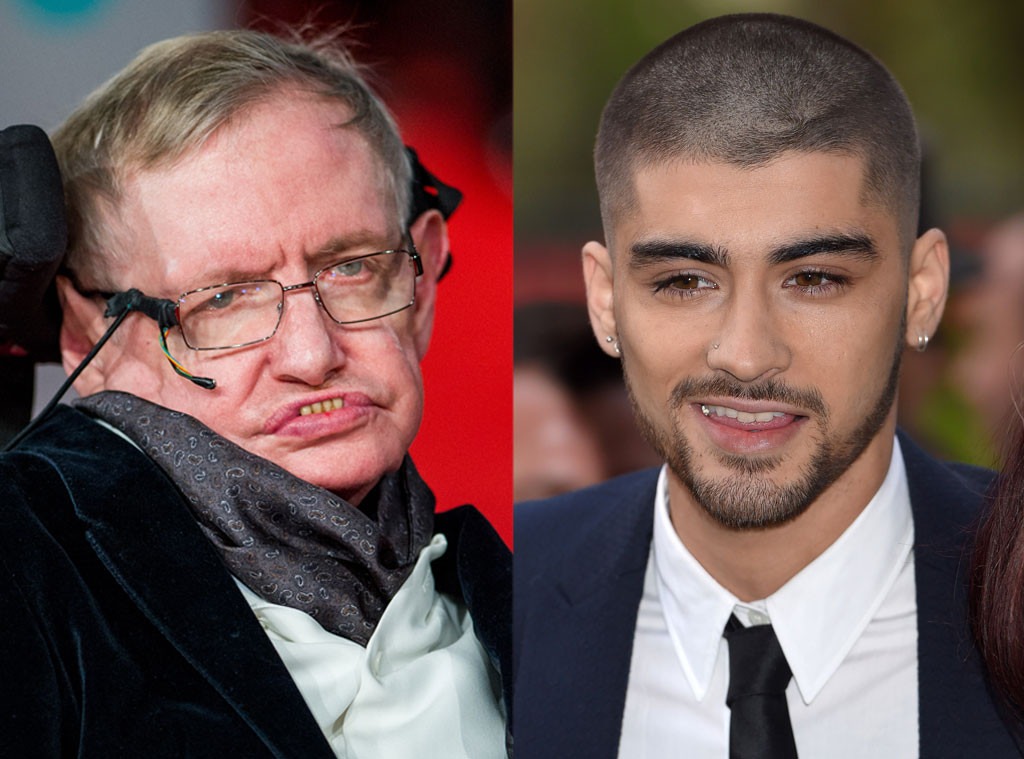 Samir Hussein/WireImage, Karwai Tang/WireImage
A true genius knows physics, pop music and even how to connect the two—just ask Stephen Hawking!
Over the weekend, the 73-year-old astrophysicist appeared via hologram at the Sydney Opera House. When one inquisitive mind asked about "the cosmological effect" of Zayn Malik leaving One Direction, Hawking didn't miss a brilliant beat. "Finally, a question about something important," he said, eliciting loud laughter from the audience.
"My advice to any heartbroken young girl is to pay attention to the study of theoretical physics because, one day, there may we ll be proof of multiple universes," said Hawking. "It would not be beyond the realms of possibility that somewhere outside of our own universe lies another, different universe and, in that universe, Zayn is still in One Direction."
Oh, thank goodness. Hawking's good news didn't end there, though. He pointed out something sure to make any Directioner smile, saying, "This girl may like to know that in another possible universe, she and Zayn are happily married." (Sorry, Perrie Edwards!)
This wasn't the only Hollywood topic Hawking covered, either. Per the U.K.'s Guardian, he praised The Theory of Everything as being "surprising honest" about the early days of his marriage to ex-wife Jane Wilde. "It was as close as I'll ever get to traveling back in time."
He had no complaints, either, about any possible deviations from reality in the acclaimed Eddie Redmayne film. "I won't tell them how to make movies, if they don't tell me how to solve the mysteries of the universe," he said.
Hawking did note, however, that in his opinion, the Theory of Everything and all other movies should have had "more physics and fewer feelings."
This might have something to do with Hawking's opinion that contemporary society has an "ambivalent attitude" towards science. "We have come to expect a steady increase in standard of living that science and technology have brought. But people distrust science because they don't understand it or feel they can control it."
"The popularity of science fiction like Star Trek is because this is a form of science with which people feel safe," he said. "But an understanding of science fact would allay their fears...much better."
If only we were all as wise as Hawking! He concluded his speech with a quote from Star Trek, saying, "Now beam me up, Scotty!" Per the Guardian, at this point, his digital image exposed into a beam of light.