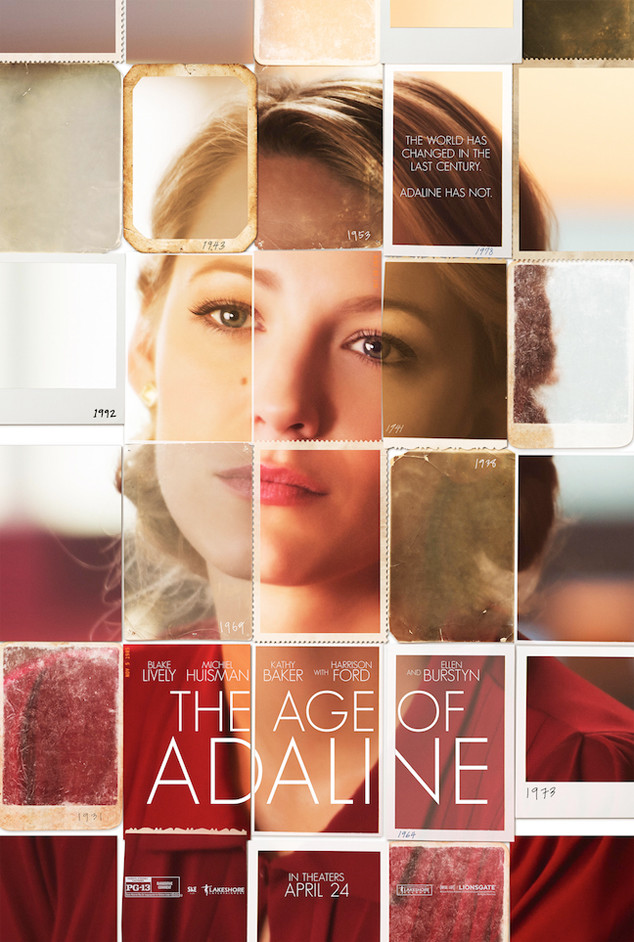 Twitter
While Blake Lively's been stealing the Big Apple spotlight this week thanks to her epic fashion parade, the 27-year-old beauty has also been busy promoting her forthcoming film the Age of Adaline, which hits theaters on Friday. 
The upcoming Lee Toland Krieger-directed flick centers on a young woman named Adaline (Lively), who, born at the turn of the 20th century, doesn't age after a terrible car accident. After remaining 29 years old for nearly eight decades, Adaline meets a handsome philanthropist named Ellis Jones (Michiel Huisman), who reignites her passion for life and romance. 
"It sounds like wish fulfillment to look like Blake Lively forever. But she cannot grow old with anyone," the director previously told USA Today of the upcoming flick. "In a world consumed with youth and vanity, there's something very fresh and beautiful about a story focusing on the beauty of growing old."
So, what are critics saying about the blond beauty's latest film, which marks her return to the big screen following a lengthy acting hiatus? Here's a review roundup: 
Jamie McCarthy/Getty Images
• The Hollywood Reporter praised Lively's performance, but pointed out the flaws in the film, calling it "too polite for its own good": "With clipped diction and a discreet, old-fashioned formality to her posture and movements, Lively persuasively pulls off the aural and visual incongruity of being — literally — an old soul in a young body. The performance is all the more impressive for not coming off as overly studied; Lively has a refreshingly naturalistic acting style, and she brings a quiet, unshowy gravity to the role. The fact that she's not an especially vivid performer — picture her next to an Anne Hathaway or a Natalie Portman and she all but evaporates — actually makes her ideal for Adaline, a woman who closes herself off to the world with a demure smile. The film itself is, for long stretches, nearly as graceful and sympathetic as its leading lady. Krieger keeps the bombast and heartstring-yanking to a minimum — even Rob Simonsen's too-present score is relatively restrained — and weaves some fine narrative and visual details into the story, such as the photo album Adaline keeps of her dog, one of her few long-term emotional touchstones, or the fleeting shot of Ellis' foot seeking out Adaline's in bed the morning after their first night together. But if anything, The Age of Adaline is too polite, too cautious. It never lunges into four-hankie territory, nor does it melt into Nicholas Sparks-like goo or boil over into full-on Sirkian melodrama. For all its competence and polish, the movie feels a bit bland and noncommittal; one wonders if the story might have been better told with Almodovarian excess, or as a lean, atmospheric thriller.
• Likewise, the Guardian applauded Lively's acting in addition to praising co-star Harrison Ford: "Age of Adaline is very much Blake Lively's movie, but before we get to that, you should know: this is Harrison Ford's best performance in 22 years. You have to go all the way back to The Fugitive to find a film that made better use of one of cinema's bigger icons...By and large, Lively holds her own. It's a hard role. She has to maintain an older person's distinction, but one masquerading behind the spark of youth. It's a side of her we certainly haven't seen before."
Jack Hammer/startraksphoto.com
• Variety's Justin Chang was also a fan of Lively's portrayal of a woman who doesn't age: "Most of all, though, it's a vehicle for Lively's expressive yet underplayed performance, the sort of quietly commanding star turn that makes you wonder why this performer (still best known for Gossip Girl) hasn't received more bigscreen opportunities over the past decade. At her subtlest, Lively sensitizes us to her character's thoughts as she processes the incomprehension of those around her, nimbly working out the best way to answer everyone's questions without revealing what's really going on. For all the deception, however, the truth of Adaline's feelings is never hidden from the viewer, least of all in one crucial scene where she gazes into a mirror and responds to what she sees with both sorrow and elation." 
Michael Simon/startraksphoto.com
• Entertainment Weekly gave the film a B rating: "What's missing from the movie isn't really her [Lively's] fault at all: The premise opens up a thousand questions about what a life that spans more than a century of social upheaval and modern progress means, but it's mostly interested in being a prettily moody romance... Still, Adaline is consistently gorgeous to look at—and a good reminder that love, even when it's complicated or painful or doesn't last, is a whole lot better than immortality." 
• The Wrap also noted that the film is some of Lively's best work, but called the movie a "forgettable romance": "Adaline even feels like a magazine celebrity profile: We're told repeatedly that Lively's character is gorgeous, intelligent, charismatic, endlessly fascinating — her faults are harder to find than a blemish on that dewy, radiant face. Such perfection rarely lends itself to narrative interest, though, which is why those profiles are frequently so tedious and predictable. It's also why director Lee Toland Krieger's follow-up to "Celeste & Jesse Forever" is a gorgeous but instantly forgettable dud...It's too bad J. Mills Goodloe and Salvador Paskowitz's screenplay hardly bothers to provide Adaline (now living as Jenny) with an inner life, because Lively is perhaps the best she's ever been here."