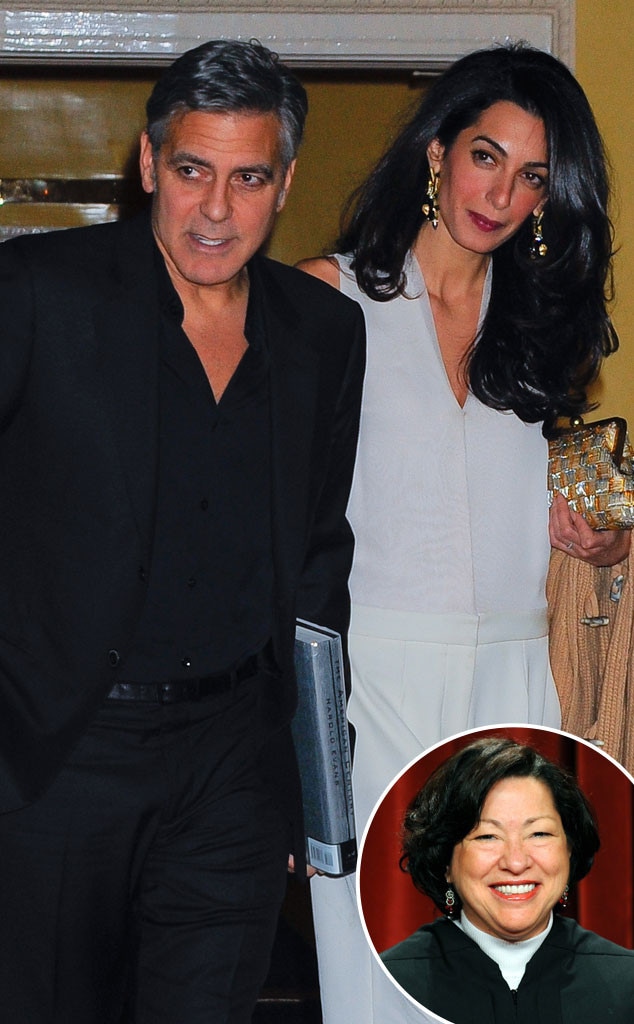 Luis Yllanes/Splash News, TIM SLOAN/AFP/Getty Images
This week a most legendary event went down. Three of the most important, influential and mystical people of our time had dinner together: George Clooney, Amal Clooney and Supreme Court Justice Sonia Sotomayor. 
It all went down at luxury dining establishment Harry Cipriani, which is perhaps one of the only restaurants in New York City with the capacity for such majesty. In fact it's a mystery as to why the world didn't just straight-up implode as a result of these three legends dining together.
If we had our way, we would have sneaked into the restaurant into the restaurant, forced ourselves into the next table, and then proceeded to inch our chairs closer and closer to the group until we could eventually just insert ourselves into their conversation. Heck, give us a white wine spritzer or two and we probably would have tried to sit on Amal's lap and share her steak salad.
But sadly, none of that actually happened. We've still got a shred of dignity left—plus, we hear the Clooneys have a crack security team.
So instead we're left with playing out their little dinner party in our own imaginations. Below, a list of things they totally (or probably) (or possibly) talked about:
1. Honeymoon photos. No couple is above boring a dinner date with shots of them at the swim-up bar. 
2. Whether or not Chief Justice Roberts wears pants underneath his robe.
3. That time Amal showed up to work as Sotomayor's clerk late and totally hungover.
4. Just kidding—how Amal was, to this day, the most flawless clerk that Sotomayor has ever had.
5. Why being a Columbia guest lecturer has made Amal totally nervous for the future of the next generation. Youths!
6. Whether George is enjoying his time as a stay-at-home husband.
7. How sorry Sonia is for forgetting about George's little movie career. She thinks it's so nice that he's finding things to keep him busy while Amal is at work!
8. How delicious Casamigos tequila is.
9. How totally not-planned it is that Casamigos tequila gets mentioned every time George Clooney is spotted anywhere.
10. How funny it is that George just happens to have samples of Casamigos tequila for the Justice to hand out to her Supreme Court coworkers.
11. How funny it would be if Sonia tweeted out a picture of her drinking (and enjoying the smooth, smooth taste of) Casamigos tequila.
12. How weird it is that Sonia won't just take the damn tequila. Especially considering she was totally late to dinner.
13. The fact that this dinner was so fun. They should totally do it again sometime!