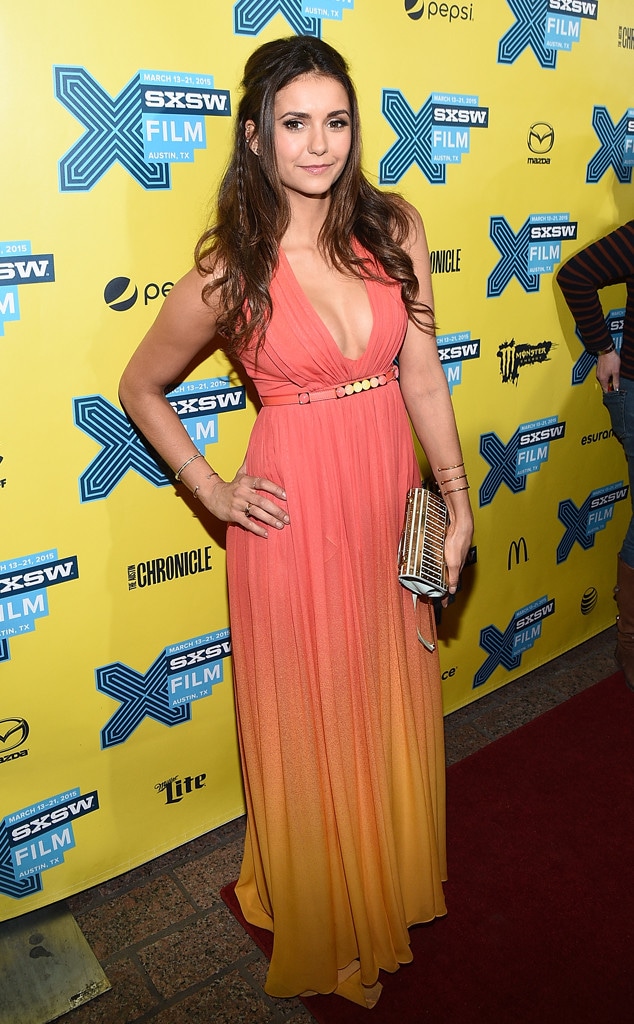 Michael Buckner/Getty Images for SXSW
Bad news, guys.
The rumors of Nina Dobrev leaving The Vampire Diaries appear to be true, according to an Instagram post by the actress, featuring a photo of Dobrev and showrunner Julie Plec:
The caption reads:
"Dearest TVD Family,
I've just spent the most beautiful weekend on Lake Lanier in Georgia with my own TVD Family, the cast and crew of The Vampire Diaries. I want to be the first to tell you that it wasn't just a holiday celebration, it was a goodbye party. I always knew I wanted Elena's story to be a six season adventure, and within those six years I got the journey of a lifetime. I was a human, a vampire, a doppelganger, a crazy immortal, a doppelganger pretending to be human, a human pretending to be a doppelganger.
I got kidnapped, killed, resurrected, tortured, cursed, body-snatched, was dead and undead, and there's still so much more to come before the season finale in May. Elena fell in love not once, but twice, with two epic soulmates, and I myself made some of the best friends I'll ever know and built an extended family I will love forever."
"Saying goodbye to Nina is both bittersweet and beautiful," Plec said in a statement. "After six-plus years together, the entire cast and crew of The Vampire Diaries has reached a level of closeness that I don't think any of us ever expected. Nina is excited to spread her wings, get some rest, travel the world and also take it by storm, and we support her a thousand-fold.
We will miss Nina and the four hundred characters she played, but we look forward to the insane and exciting challenge of continuing to tell stories of our Salvatore Brothers and our much-loved and gifted ensemble."
Plec also confirmed that Michael Trevino, who played Tyler Lockwood on the series since season one, is also departing. 
"Michael has been a beloved member of the Vampire Diaries family since day one," she said. "Even though he's also going to be out in the world exploring new opportunities, we look forward to finding creative ways to make sure he and his character Tyler Lockwood always remain a part of the show."
Rumors began flying of Dobrev's departure after she and other Vampire Diaries cast and crew members spent the weekend having a blast on a little lake vacation and posting up a storm on Instagram, "in honor of Nina Dobrev and Michael Trevino," according to some since deleted captions. 
Just last month at SXSW, Dobrev told E!"s own Marc Malkin that she wasn't sure how long she'd be staying with the show. "It's a vampire show," she said. "Anything could happen, but it depends. It depends on the story. It depends on a lot of different things."
The show has already been renewed for a seventh season (along with nearly everything else on the CW), and this season already saw the departure of Elena's brother Jeremy, played by Steven R. McQueen, earlier this year. With three characters now missing, season seven could be a very different show. 
Hang in there, TVD fans. We'll get through this together!