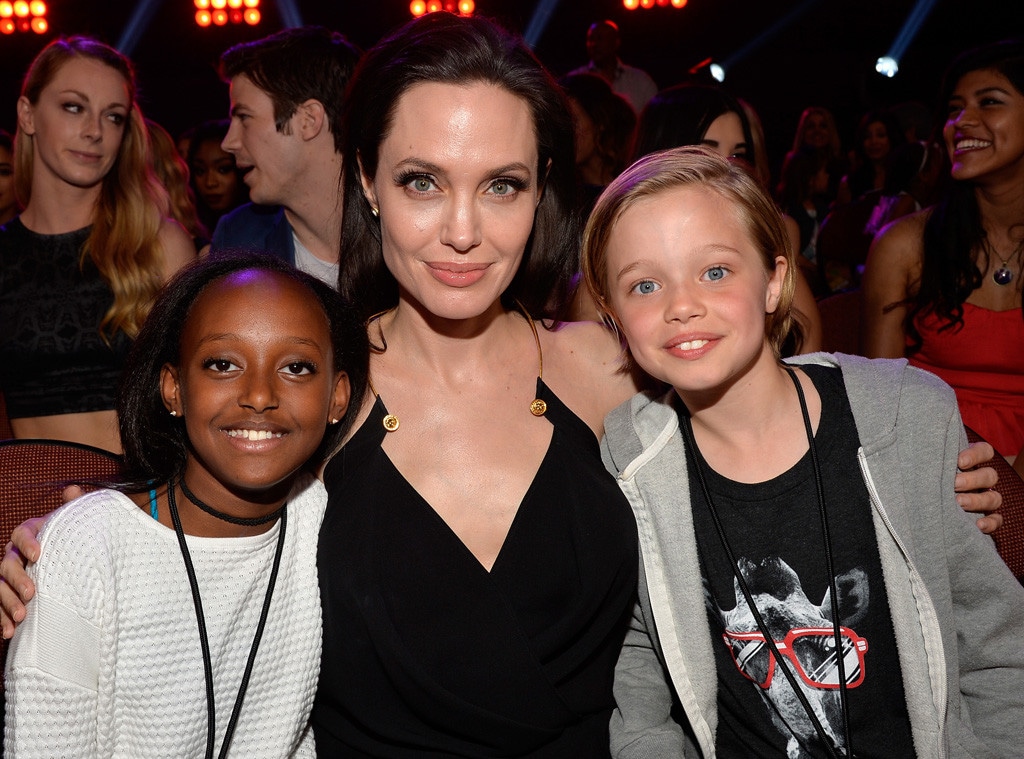 Frazer Harrison/Getty Images
And the award for best mom of the night goes to….Angelina Jolie!
The Hollywood actress made a surprise appearance at the 2015 Kids' Choice Awards Saturday night with two of her adorable kids.
Wearing a black dress with her hair down and a light pink lipstick, the 39-year-old looked comfortable and chic as she sat next to Shiloh and Zahara.
The happy family was all smiles as they watched Iggy Azalea, Nick Jonas, Jennifer Hudson and 5 Seconds of Summer perform at the kid-friendly awards show.
Jolie's public appearance comes less than a week after the actress wrote a personal New York Times op-ed where she explained why she had her ovaries and fallopian tubes removed as a preventative measure. Mrs. Brad Pitt carries a gene that gave her a 50 percent risk of developing ovarian cancer.
Frazer Harrison/Getty Images
"I went through what I imagine thousands of other women have felt," the Academy Award winner wrote. "I told myself to stay calm, to be strong, and that I had no reason to think I wouldn't live to see my children grow up and to meet my grandchildren."
Her brave story caused dozens of celebrities to tweet their support for the star and resulted in so much praise from several doctors.
"We continue to applaud Angelina Jolie's willingness to share her journey with the BRCA gene mutation," a statement made on behalf of Dr. Kristie Funk of the Pink Lotus Center read. "Since the original release of her story, countless women around the world have been made aware of the gene and have been able to explore lifesaving treatment options to lower the risk it poses to their health."
As to whether or not Jolie and the kids got the full Nickelodeon experience—slime anyone?—you'll have to watch tonight's show to find out! 
For more coverage from the Kids' Choice Awards, watch E! News Monday at 7 and 11 p.m.